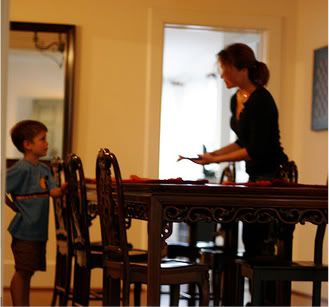 Last night on Frugal Coast2Coast we had a fantastic show with special guest Erin from $5 Dollar Dinners!
Lynnae (she's my co-host if you've somehow missed the show) and I are both embroiled in back to school madness.  Crazy schedules seem to always lead to dinner chaos-making "Frugal Quick and Easy Dinners for Families on the Run" seem like a particularly relevant topic!
As I said in the show, one way to really save yourself some time and give yourself a significantly probability of having a homemade dinner is to have PORTIONS of meals already on hand.
I find that by having precooked, pre-measured portions of meat on hand I drastically reduce my cooking time.  It also increases the guilt/avoidance when it comes to just grabbing take out instead of cooking dinner!
When I hit a sale, I will buy and cook chicken, ground meat or meatballs in a large batch and freeze in meal size portions~a cup to a cup and a half for my family size.  If you are feeding hungry teenagers you might need to double or triple that!
Today I'm going to specifically talk about ground beef.   Are you unsure how to start? Curious on how to cook a really large batch of ground beef without making your stove and kitchen into a grease splattered mess?  Kim at Kim's Kitchen has a great bulk beef cooking tutorial with photos that can get you going in a flash.
But let's assume that you already have your ground beef.  Really I should say ground MEAT-you could easily substitute ground pork, turkey, and venison-whatever fits your budget and dietary constraints. For that matter you could even use reconstituted TVP.   Here are some ideas for ground beef/meat.
12 Easy Uses for Ground Beef

Stirfry: Mix with a bag of frozen stirfry veggies and some soy sauce, serve with rice
"Stroganoff": Mix with 1 can of cream of soup, 1 pkg dry brown gravy mix. Serve over noodles (may add onions or mushrooms)
Spaghetti: Toss into a can of sauce and warm. Serve over noodles
Curry: Mix with leftover veggies (or a bag of frozen) and instant curry cubes. Serve with rice
Gravy: Either make milk gravy, or cheat and use a mix (country or brown) and serve over rice, bread or biscuits.
Pot Pie/Shepards Pie: Mix with can of mixed veggies, white sauce or cream of soup. Cook in casserole dish with either boxed mashed potatoes or biscuits on top (I make homemade drop biscuits)
Tacos/Burritos: Add the spice mix and serve either on burrito wraps or in taco shells w/ regular accompaniments
Soup: Use either broth or tomato juice for base, add veggies and a starch if you like.
Hamburger casserole: Use a starch (we prefer noodles), cream of soup (or white sauce) corn and peas, salt and pepper.
Hamburger Mac 'n Cheese: Add to your favorite Mac 'n Cheese recipe
Chili Mac: Add to cooked elbow noodles, spaghetti sauce, chili powder, beans, onion and green pepper. Bake.
Sloppy Joes: Use your favorite recipe.
Tune in tomorrow for some great ideas on how to use another homemade frozen meal starter-meatballs!
Meanwhile-what are some of your favorite uses for browned ground beef?

Photos by
http://www.flickr.com/photos/seandreilinger/ / CC BY-NC-SA 2.0