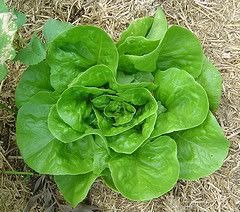 Quick Tip-Keeping Lettuce Fresh
Have you ever bought lettuce with every good intention of making lots of healthy salads-only to have it wither grow slimy before you used it all? Having to chuck produce in the trash-or even the compost-is a waste and the antithesis of frugal!
Here are 2 quick tips to make your lettuce last longer
#1-Consider buying Romaine lettuce. Yes, I know it costs more, but it tends to last longer in your fridge, so the additional cost may be worth it for you.
#2-Wrap your lettuce, once cut, in a dry kitchen towel (or piece of papertowel) and place in an unsealed plastic bag. The moisture that naturally evaporates out of the lettuce and then condenses in the plastic bag or wrap is what causes it to get slimy so fast. If you have something in there to absorb the water (ie the cloth or paper towel) you will be amazed at how much longer it lasts! This tip works on most fresh leafy greens.