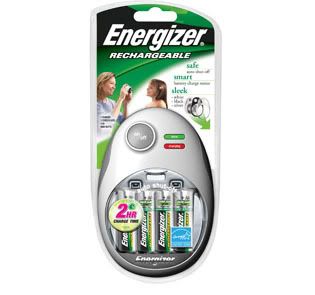 As you all know, I don't do a lot of reviews here at Frugal Upstate. But when I my good friend Colleen from Classy Mommy asked me about reviewing Energizer Rechargeable batteries I jumped at the chance.
Why? Because I love the concept of rechargeable batteries-why buy something once and throw it away when you could reuse it over and over. Add to that the environmental concerns involved in disposing of batteries (no, you are not supposed to just throw them in the trash!) and rechargeables become even more attractive.
I have been using Energizer Rechargeables for years. I have one of their compact style chargers that I bought 3 years ago. The rechargeable batteries are what I have used exclusively in my digital camera and flip camera for several years with great results.
When I received the new charger and batteries in the mail, I immediately noticed that the charger is much sleeker looking (although larger) than the older version I already owned. Whereas the old version simply has a single light, this unit had a clearly labeled "charging" and "done" lights, as well as a large "On/Off" button. I really, really liked this feature. On my older version I was never quite sure when the batteries were done charging. . . there was a light but it was ambiguous.
The unit retails for $23.99 (MSRP) and comes packaged in a bubble pack. I have to admit, I really hate those things. Yes, I understand that they keep equipment dry during shipment, as well as perfectly and prettily shown to it's best advantage. . . but it seems like you can never get things out of the hermetically sealed rigid plastic without much banging and cursing. This packaging however had a pull down tab in the back. While this does not open the unit per se (really-I tried. Doesn't work that way) it does give you a nice big opening which you can attack with your pair of scissors.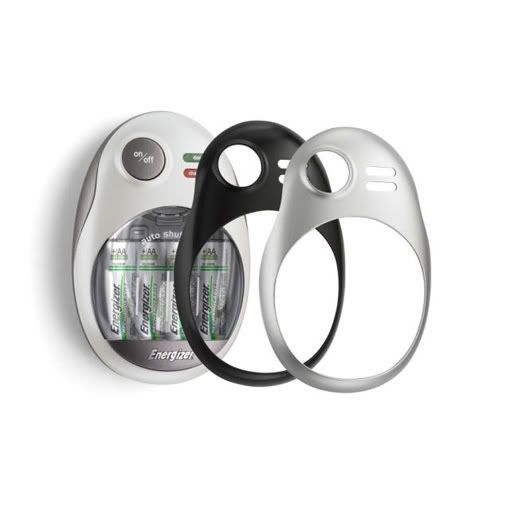 The charger (once released) come with 3 faceplates (white, black and silver) so you can customize the color to go with your decor. Honestly, the color of the charger really isn't that big of a deal to me, but my son had a fun time picking out which one we would use. . . . apparently the silver faceplate was the most aesthetically pleasing to our local 5 year old. Silver it is then.
The charger comes packaged with 4 AA batteries all loaded up inside it. You can also use it for AAA batteries as well-there is a little switch you can flip to fit those in. Just a note: although it looks ready to plug in and start charging, there is a clear plastic strip between the battery's positive (+) end and the charger. If you don't remove it, you won't have much charging going on.
I plugged it in and started the timer. I'm a skeptical gal-just cause the package says that AA's charge in 4 hours doesn't mean I believe them. Well, at just about 4 hours on the dot the light changed from "charging" to "done". AAA's are supposed to charge in just 2 hours, but I didn't have any of those to try.
Next I wanted to know how long that charged battery really would last. I threw two into a small flashlight we have (it's a mini mag light, left over from our Army days) and set the timer again. I checked it regularly. . . the light finally went out at 8 hours.
Overall, I found it to be a great product that I am completely comfortable recommending.
I know that $24 for 4 batteries seems steep, but considering a 4 pack of AA's runs around $6 or so, after 4 rechargings you have broken even. According to Energizer the batteries can be recharged 100's of times. . . so the possible savings is HUGE.