When the folks at Scott's Miracle Gro contacted me about the chance to test and give away a GroGood gardening kit I was excited, but cautious. You see I love to garden, and the idea of free gardening stuff for me to try out and free stuff to give away to all of you was very attractive.
But I garden organically-I've always figured if you are going to spend all that time and effort growing wonderful produce in your back yard, why douse it with chemicals? I searched the Scott's website and saw they did indeed have organic products. Then I wrote back to my contact, who assured me that the kit did indeed include the organic plant food. Yay!
That issue aside, I decided to check out the "GroGood Pledge" that the prize package supports. It turns out that Scott's Miracle Gro, Feeding America and Plant A Row For The Hungry have teamed up to donate over a million pounds of fresh produce to food banks nation wide. They want us, the average Americans, to join in and help to donate another million pounds. The idea is awesome & the pledge is simple, something I can support 100%:
I pledge to garden for the greater good.
I will plant a little more than I need.
I will eat my homegrown foods as often as I can.
I will donate my extra harvest to the local food bank.

In honor of this program, Scotts gave me two GroGood Garden Kits-one for me to use, and one for me to give away. Each kit is complete with a planter box, bag of Miracle-Gro Organic Choice plant food, hand trowel (a nice, heavy Smith Hawkins one!), GroGood reusable shopping bag, a quick guide to starting your own edible garden and a $10 American Express gift card to purchase seeds.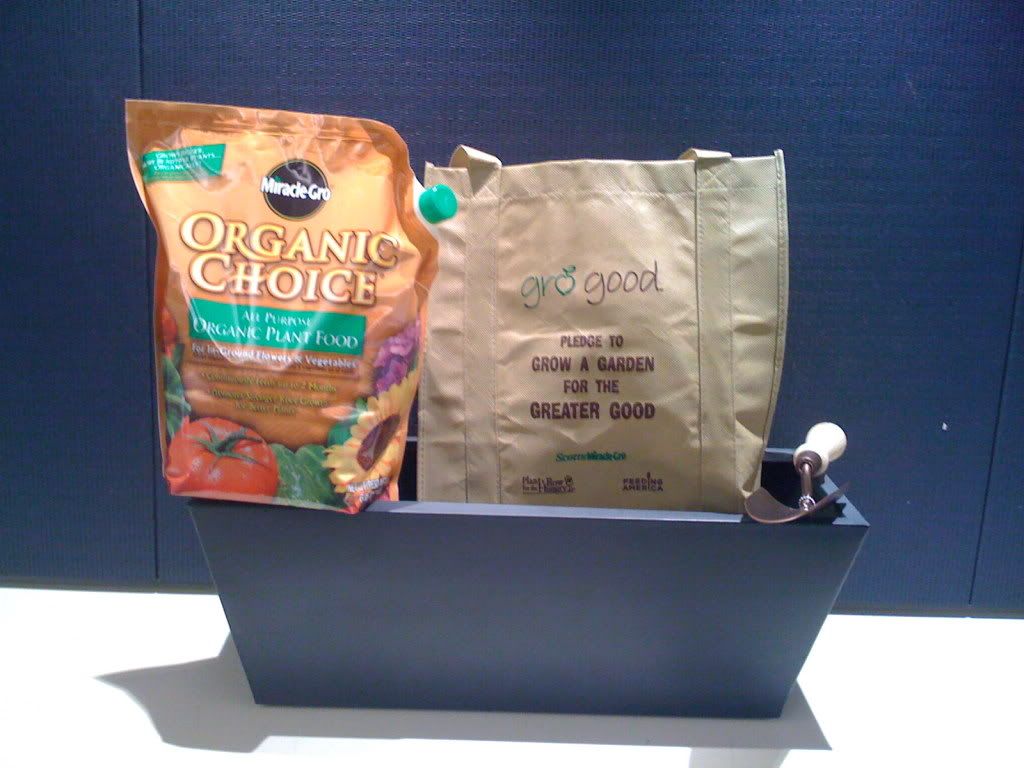 How fabulous is that?
This giveaway will run until Monday May 11th at 12 noon EST. You have several chances to enter. Please use this shortened url back to this contest for tweets, posts etc: http://budurl.com/8t7s
#1-Leave a comment entering the contest with your email address
#2-Subscribe to Frugal Upstate-then leave another comment with your email address
#3-Tweet about the contest with a link-come back and leave a comment with your email address.
#4-Post a Facebook update about the contest with a link-come back and leave a comment with your email address.
#5-Blog about the contest, come back and leave a link to your post
#6-Go and make a GroGood Pledge, come back and leave a comment with your email address.
Good luck!
***Note: Edited to add picture of the prize***