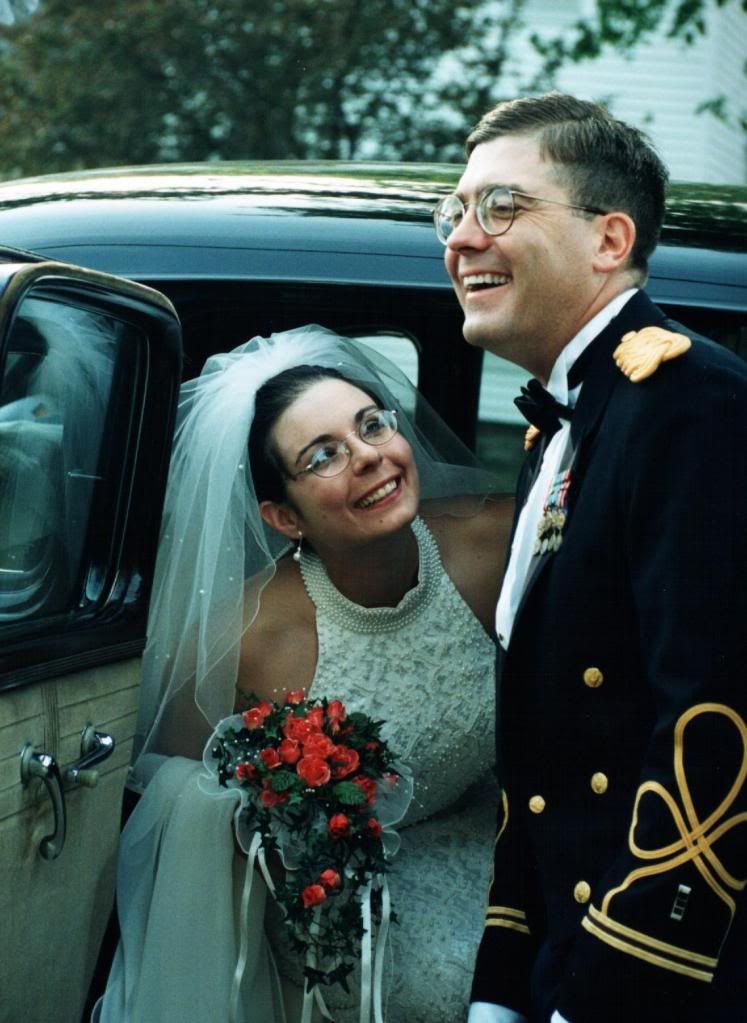 Ten years ago today I married my husband, lovingly referred to here on Frugal Upstate as Yankee Bill.*
Since then there have been 4 states, 5 houses (and 5 moves), 2 children, 1 dog, 2 cats, a guinea pig, 7 cars, 2 campers, 3 motorcycles and at least 20 lbs.
Like all married couples, there have been good times and bad times. Well, Yankee Bill doesn't like the phrase bad times, he prefers "not as good times" 🙂 There are the inevitable arguments, stress and bouts of the blues that can occasionally make any marriage a challenge. We all have those moments, and if you go into any relationship convinced that you won't-you are in for a nasty surprise that will seem all the more negative and insurmountable when it happens.
Despite what Cinderella, the movies and romance novels would have us believe-the weddingisn't the end of the story, but rather the beginning. Being married is work. It can be hard work-but isn't everything worthwhile in life? Who really appreciates something that comes too easily anyway? To make a good life together we all have to bend a little bit and compromise occasionally.
That is the key word. Together. Because I feel that in being married I become so much more than just being me alone. That's not to say that I'm not strong and independant on my own-anyone who knows me in real life will verify that! But when you are together there is love, caring, support, laughter, friendship and comfort beyond that which you have on your own. Maybe you don't feel all those things every single moment of every single day, but most of them, most of the time.
Even more than that, I have found that marriage, a good marriage, makes you grow as a person. That is something I really didn't expect 10 years ago. You can't live with someone without being exposed to new things and new ideas, learning to compromise, learning to change. It is a beautiful thing when you get to learn and grow together!
So thank you Yankee Bill for being my lover, my love and my friend. For being my biggest supporter and cheerleader when I needed one. For believing in me. I love you.
*Note: This post has nothing to do with frugality. Blogger's perogative, deal with it!