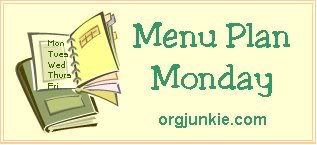 Monday: Stuffed Lettuce Leaves, Salad & Scalloped Tomatoes
I was going to make these last week, but the schedule got goofed up.  So on to today they go!  I still have lettuce to use for salad as well, so a nice big garden salad (that will hopefully have leftovers for lunch) and then I'll use canned tomatoes to make scalloped tomatoes.
Tuesday: Meatloaf, Mashed Potatoes & Roasted Beets
Last fall when we took the deer Yankee Bill shot to be processed, the gentleman accidentally made all of our ground meat into spicy sausage (we had ordered 1/2 and 1/2).  The kids find the sausage too hot to eat plain so I have to buy regular ground beef and mix it.  I remembered to pick some up last week at Aldi's so I'll be making a couple of meatloaves-one for us to eat, one to freeze, and one to send over to a friend who is having chemo.  The taters will most likely come out of a box, and the beets are out of the garden.
Wednesday: Pasta ala Pompodoro, Steamed Chard
Another dish that didn't happen last week!  This light Italian bean & pasta dish will be my meatless meal for the week.
Thursday:  Sausage Skillet & Rice with Marinated Cucumbers.
I have about 6 polish sausage left over from the cookout this weekend. I'll saute them up with some peppers, onions and whatever else takes my fancy and serve over rice.
Friday:  Pizza
Homemade. Pizza Hut Clone Crust.  Nach.
Saturday: Chez Frugal Buffet
aka leftovers
Sunday: Corn & Fish Chowder, Biscuits & Steamed Carrots.
There is some slightly freezer burnt fish in my deep freeze.  I figure the perfedct way to disguise the not so fabulous textue is to pop it in some soup!  Homemade biscuits always finish off a soup meal, and they are just soooo good.  Carrots will be out of the garden.
For more great menu plans head on over to The Organizing Junkie.