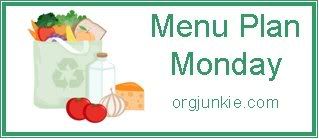 Labor Day, the start of school, so many things happening in the next two weeks.  I've got the meetings 3 nights this week to prove it!
Monday:  Wendy's Chili Clone (Crockpot) & Fresh Bread
I love a good crockpot meal on a night that I have a lot going on (hubs has pool, I have a meeting followed by my radio show).
I got all inspired yesterday when I popped into my local tiny market and they had London Broil on sale.  I scooped one up fairly cheap and broiled it for dinner (sometimes you just have to trash the menu plan & go with it).  Unfortunately broiling is not one of my strong suits, and although it was decent, it was a tad bit overcooked.  It is not going to stand reheating very well as a stand alone entree. Instead I'll chop it up a bit smaller and use it for chili!  I know it's a bit early in the season for chili, but the forcasted high for Monday is only 65.
I have been extremely remiss in my bread baking-so I'll bake two loaves in the morning which will get me ready for the week and make a nice compliment at dinner for the chili.
Tuesday:  Church Picnic
I'll bring my Crunch Asian Chicken Salad and/or Deviled Eggs.  Those are both always big hits.
Wednesday:  Green Chile Chicken Lasagna, Garden Salad & Steamed Carrots
Since I posted the recipe last week I've had a hankering to make this again!  Tuesday is another meeting night for hubs, and the beauty of a casserole like this is that it can be made ahead of time during the day and then just reheated when needed.  How quick and easy is that?
The salad will come from the garden~since we had such a cool summer this year I still have some lettuce that hasn't bolted.  Ditto for the carrots.
Thursday:  Corn Fish Chowder & Biscuits
I have not worked as much fish into our diet as I would like this summer.  My grand plan had been to eat fish once a week, both as a way to eat more healthily and as a way to save money.  Yes, I know that not all fish out there is inexpensive, but there are some canned and frozen varieties (tuna anyone) that range for reasonable to down right cheap!  If you have a brother in law, as I do, who loves to fish but hates eating it can even be free.
I bought sweet corn at roadside stand on Sunday to go with that London Broil (10 for $3).  I cooked it all up, but we only ate about half of it.  I cut the rest of the kernels off the cobs with a knife and stuck them in a container in the fridge.  They will be used in the chowder.
Friday:  Homemade Calzones
Ever since I started using the Pizza Hut Clone Crust recipe to make Calzones instead of Pizza that's all the kids want!  They've even begged for me to make some to be included in their lunchboxes. . .
Saturday:  Ridiculously Easy Crockpot Roast, Mashed Potatoes & Green Beans
It's Labor Day Weekend!!! There always seems to be lots of stuff going on, folks coming into town for Monday (it's a really big deal here and coincides with the Alumni weekend, all the 5 year increment reunions, etc) and general chaos.  A crock pot meal is just the ticket-and if we wind up doing BBQ at someone's house we can just save it for the next day.
Sunday: Buffet Night
Otherwise known as "Mom will put all the leftovers out and you can pick what you want for dinner"
For more great menu plans head on over to Menu Plan Monday at the Organizing Junkie.