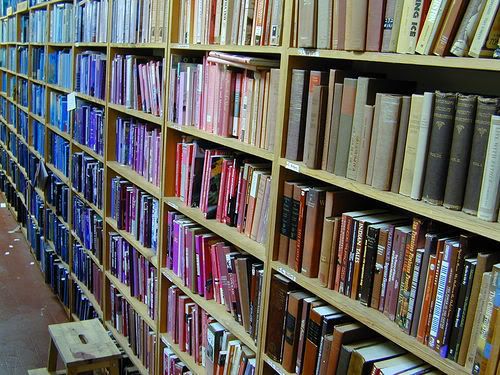 On this weeks Frugal Coast2Coast radio show (How to Become Frugal) Lynnae and I got talking about libraries & books. As any longtime reader of Frugal Upstate knows, I am a voracious reader and I absolutely LOVE libraries.
For those of you who haven't tuned in to the show yet, there is a chat room that occurs, live, while the show is broadcasting*. This last week there were over 80 folks in there discussing topics related to (and sometimes completely UN related to) what we were discussing on the show.
When the topic of libraries and books came up, the chat room exploded with questions and suggestions. Lynnae and I were asked to reveal our favorite books on the air, and then to publish them on our websites for all to remember and enjoy. Pop by your local library and check some of these out! If you find them to be valuable resources, then try buying them used on Amazon, Half.com etc 🙂
So here we go-some of my favorite frugal resource books as well as awesome fiction writers in a variety of categories.**
Frugal & Financial Resources
The Complete Tightwad Gazette (or 3 individual volumes) by Amy Dacyczyn
The Best of the Cheapskate Monthly by Mary Hunt
The Millionaire Next Door by Thomas J. Stanley and William D. Danko
The Wealthy Barber by David Chilton
Betty Crocker Cookbook
Better Homes and Garden Cookbook
The Victory Garden Cookbook by Marian Morash
How to Cook Everything by Mark Bittman
Not Just Beans by Tawra Kellum
Herb Mixtures & Spicy Blends by Maggie Oster
The Joy of Cooking
Any crockpot cookbook that looks good to you
Any bread machine cookbook
Square Foot Gardening by Mel Bartholomew
The 20 Minute Gardener by Marty Asher
The 20 Minute Vegetable Gardener by Marty Asher
Lasagna Gardening by Patricia Lanza
The New Victory Garden by Bob Thomson
The No Work Garden Book by Ruth Stout
Sprouts and Saplings-Gardening with a Difference by Monica Brandies
At least 1 or 2 good organic gardening books.
Stitch and Bitch and Stitch and Bitch Nation by Debbie Stoller
Amanda Quick
Johanna Lindsey
Catherine Coulter
Jayne Ann Krentz
Mystery
JD Robb
Diane Mott Davidson
Lilian Jackson Braun
Janet Evanovich
Douglas Adams
David Weber
Alan Dean Foster
Jim Butcher
Charlaine Harris
MaryJanice Davidson
Anne McCaffery
David Eddings
Raymond E Feist
Robin Hobb
Terry Goodkind
Tamora Pierce
Terry Pratchet
Meg Cabot
Ann Brashares
This is just a sampling of the books/authors that I enjoy. What are yours? I am interested to hear -maybe I'll find someone new!
Photo by Dawn Endico

*Unfortunately, the chat room is not archived, so when you listen to the show "On Demand" you can't see the conversation. They are hoping to remedy that eventually. For now if you want to join in the fun you have to tune in live on Monday nights at 8:30 EST. Next weeks show is on budgets. **I wasn't joking about being voracious folks. I read roughly 3 novels a week-I'm sure I've read hundreds of thousands in my lifetime. This will not be a complete list of "everything Jenn has ever read"