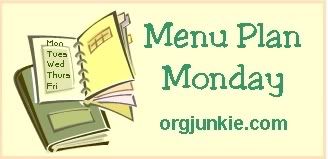 Last week's menu was a little goofed up. But that's ok, sometimes you just have to be flexible. On Thursday I went to make the baked fish, and realized that I had NO FISH in the freezer. Well duh! So I substituted in a leftover night. Friday we decided to make calzones instead of pizza, which is barely a change. On Saturday I was just wiped out, so instead of making Schnitzel we ordered out. Chinese. It was a rare treat for the kiddos since we rarely do that! I got the best fortune cookie fortune I have ever seen in my life:
"You will be hungry again in one hour"
Then on Sunday instead of grilled cheese we had the leftover Chinese with a box of Macaroni & Cheese (a handful of extra grated cheddar added-yum).
Can you imagine what chaos dinner hour would have been if I HADN'T had a plan? I shudder at the thought.
Now on to this week!
Monday: This and That Chicken Curry & Rice
I have two chicken thighs in the freezer which I will bake & use the meat from. There are a lot of widdowed veggies in the fridge-a bag full of salad I made last week that is starting to wilt, some rubbery carrots, leftover frozen veggie mix. . . All of that cooked up with an extra onion in the curry sauce will be delicious (trust me) and I can serve it over the leftover pork fried rice. Tada! Dinner AND cleaning out the fridge all in one!
Tuesday: Pea Soup (aka Shrek Swamp Slime Soup) & Biscuits
I made a pot of pea soup to take to the potluck lunch/annual meeting at church on Sunday (note to self-pea soup does not go over well at church potlucks). Yankee Bill has a meeting on Tues night, so this will be a quick easy, warm it up kid of meal. Yes, I still have to make the biscuits, but they go together so fast that they barely count. Plus I can make them ahead of time if I want.
Oh, and the silly name? It's for Buddy. He won't eat beans or peas, but is happy to eat Shrek Swamp Slime Soup. . . sometimes it is all in the name folks!!!
Wednesday: Cabbage Roll Casserole, Salad, Canned Fruit
We've got a busy day on Wednesday-signing on the refi of the mortgage, meeting with our financial planner, meeting with the insurance adjustors to have the motorcycles assesed for our new, lower premium policy on them with a new company. Since cabbage roll casserole is an especially good meal to toss in the crockpot I can make it the night before, then just toss the liner in the crockpot that morning and not have to worry about it all day. Plus it will use up that half a head of cabbage I've got left over in the fridge from making my 0 pt soup last week (which I am keeping around to fight off those mid afternoon munchies).
Thursday: Schnitzel w/Mushroom Gravy, Buttered Noodles, Frozen Veggies
Since I skipped this one last week I feel honor bound to try this week! Someone asked for my Schnitzel recipe. . . I'll post it later this week! Honestly, it isn't that hard. The hardest part is getting a really nice thin pork cutlet. About once a year I buy a whole pork loin when they are on sale for $1.69 or so a lb (or less if I'm lucky) and have the butcher cut them into 1 inch chops. I then take them home and butterfly them (which means cut them so they open up like a book) and then pound them flat with a meat mallet before freezing in my foodsaver bags.
Tada-ready for schnitzel!
Friday: Dinner Plans
Yes, it looks like we have been invited out to dinner by a friend. The kiddos will have something exciting like fish sticks or hotdogs w/Mac 'n Cheese. . . I like to have them fed or at least eating when the babysitter arrives so they don't have to worry about any of that.
Saturday: Pizza
Homemade. Since we are missing it on Friday, I'll move it to Saturday. Last friday I made an extra batch of dough, rolled it out and par-baked it at 350 for 10 minutes. When they were cool I stuck them in the freezer downstairs (wrapped in a plastic grocery bag). So making pizza will be uber easy-just take out the frozen crust, put the toppings on and stick it in the oven at 450 for 12 min. You don't even have to defrost it!
Sunday: Salmon/Tuna Loaf, Creamed Spinach and Rice
I have 1 can of salmon in the cupboard, so I'll make this. I'll spread out the salmon by adding a can or two of tuna fish. For the "filler" I will use "bread" crumbs from my savory crumb bag in the freezer. For the sides, I've never actually MADE creamed spinach before, but how hard can it be? I realized this weekend that I've got about 6 bricks of spinach in the freezer, so I figure I better use some of them!
There you have it! For more great menu plan ideas, make sure to head over to Menu Plan Monday at The Organizing Junkie! Plus she has a giveaway going on this week. How cool is that?
I've been wondering-how did those of you who vowed to try a menu plan do? Has it been working well for you? Is it as difficult as you thought it would be? I'd love to hear!