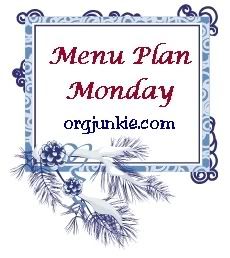 Well, I'm back home tonight around 5pm-so dinner will be over and done for before I get there courtesy of Yankee Bill 🙂
Tuesday: Venison Stirfry & Rice
Have to keep remembering to use the venison in the freezer. Add to that the fact I'm likely to still be pretty tired post conference and this will be a quick and easy meal. I'll just defrost a few steaks, slice them and toss in with frozen stirfry veggies and some sauce while the rice bubbles away in the rice cooker.
Wednesday: Lentil Casserole, Steamed Carrots, Pickles & Homeamade Bread
I try to fit at least one meatless meal in each week. I don't always hit that mark, but it is my intent both for health and budgetary reasons. This lentil casserole is filling and tasty-my "I'm not anything close to a vegetarian" husband even likes it.
Thursday: Lentil Tacos, Rice & Refried Beans
Leftover Lentil Casserole will be broken up and cooked with taco spices for the tacos and served with leftover rice from Mon and a can of fat free refried beans.
Friday: Pizza or Stromboli
I'm hearing rumblings from Princess that she is tired of pizza, so I may roll it up into a Stromboli instead.
Saturday: Roast Chicken, Baked Potatoes & Veggies
I have a chicken defrosting in the fridge and the remains of a 5 lb bag of potatoes downstairs. Sounds like dinner to me.
Sunday: Chicken Soup & Biscuits
From the chicken carcass of course!