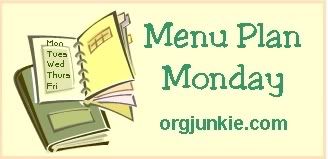 It's menu plan day! After you are done reading my wonderful offerings, head on over to Organizing Junkie to check out many more.
Hmmm, there is a lot to take into account when planning dinner this week. Looking at my calendar this week-Yankee Bill has meetings 2 nights (he'll be home for dinner but has to be back out the door at 6ish), I have a meeting one night, we are hosting Princess's B-day party (kiddos will be gone by dinner but the house will be thrashed and I'll be exhausted.), and then on Sunday we are going to my MIL's house for dinner.
I'm trying to average 1 fish and 1 non meat/low meat meal in each menu. Add into the mix that I bought 2 entire spiral cut hams last week*. Much of that will obviously be packaged and frozen for future use, but I'll have to work a bit of that in.
Monday: Ham, Rice, Noodles or Mac'n Cheese, Frozen Veggies
The ham isn't frozen yet, so it will be simplicity itself to cut a few slices and heat them in the microwave. I've got rice, boxed mac'n cheese and noodles cooked in the fridge. Not enough of either to feed everyone but put them all out and everyone can pick one. For veggies I've got that cauliflower/broccoli mix that Aldi's sells.
Tuesday: Broccoli and Cauliflower Quiche, Bread, Salad.
I'll use the leftover veggies from Monday, eggs and cheese. Round it with homemade bread and some green salad-that's if I make it to the store for lettuce.
Wednesday: Spaghetti Carbonara, Salad
My best friend growing up used to say this was scrambled eggs and bacon spaghetti. Instead of bacon I'll be using ham. I'll use the leftover salad.
Thursday: Ridiculously Easy Beef & Gravy, Rice, Veggies
From a beef roast that's been languishing in the freezer for WAY too long (there will be tons of leftover beef to use in later meals)-cooked in the crock pot with "cream of" soup, minced onion and beef bullion, my bulk Asian grocery store rice and frozen veggies.

Friday: Pizza
Post birthday party pizza. I may cave and use frozen or even (gasp) order out.
Saturday: Fried Rice
Made from leftover rice, veggies and meat. Fried rice is such a great way to use up the odds and ends in the fridge. And it's just plain yummy.
So ok, I didn't manage any fish this week. But I did get in that quiche-which was meatless.
*why yes, that is almost 20 lbs of ham, but it was only $1.59 a lb? What kind of meat can you get for $1.59 a lb these days?