Hi, my name is Jenn, and I'm a packrat.
(all together now- "Hi Jenn")
Seriously though, I have stuff. Lots of stuff. And some of it is actually stuff that I need. So where do you put all the stuff?
We are unusually blessed because although our house was built in 1890, it is very atypical and has HUGE closets in all the bedrooms. Downstairs-not so much. When the previous owners rennovated the kitchen, they put in a decent amount of cupboards, but they also made this unusual set of cubbies in the corner near the entrance door.
Originally the spot that now houses my messy desk consisted of two compartments on the bottom and then open white plastic coated wire shelving on the top. Ick.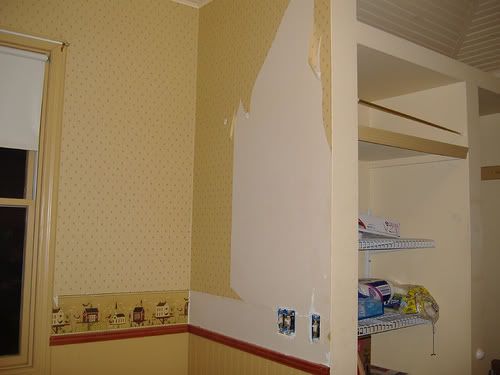 not the best picture, but what I had
The "closet" on the right only had two strips of pegs on each side-we installed a high and low closet bar to hold more coats and then I sewed up the curtain for across that and across the small cubby above the desk to hide the clutter (using sale purchased fabric of course).
That left this awkward space above.
Yankee Bill ran electrical and cable through the wall and set this older small TV we have (which used to reside in the garage) up there. I rarely turn it on, and wouldn't have spent money to buy a tv just to put there, but since we already owned it, it is kind of nice to have it there when you do want to watch something while doing kitchen work.
But the rest of the space is wasted. I tried storing kitchen stuff in plastic tubs up there, but it looked so cluttered and junky that I moved those items to some shelving at the bottom of the basement stairs. I didn't want to buy "object D'art" just to stick up there. So I decided that I needed some enclosed storage that looked attractive.
Have you ever priced attractive storage containers? Let's just say that they aren't particularly frugal. So I decided to do what any good frugalite would do-figure out how to make some.
I selected a nice strong box from Save A Lot-they keep a ton of boxes stacked by the door, free for the taking. If you don't have that option ask at your local grocery store, they are likely to have some nice strong boxes that fruit or such came in.
I knew that the locally owned dollar store in Norwich regularly carries rolls of wallpaper, so on my next trip there I looked through the bunch for something that would coordinate with my kitchen. I found a green and white stripe that matched the walls almost exactly. If you want to purchase wallpaper, you could check at your local store for rolls of discontinued patterns that sell for a reduced price, or ask around to friends who may have paper left over from projects in their homes. Also you could use wrapping paper, fabric or contact paper. Find whatever is available and cost effective for you. I liked using wallpaper because it is thicker and will withstand more abuse when I pull the box on and off the shelf to access the stuff inside.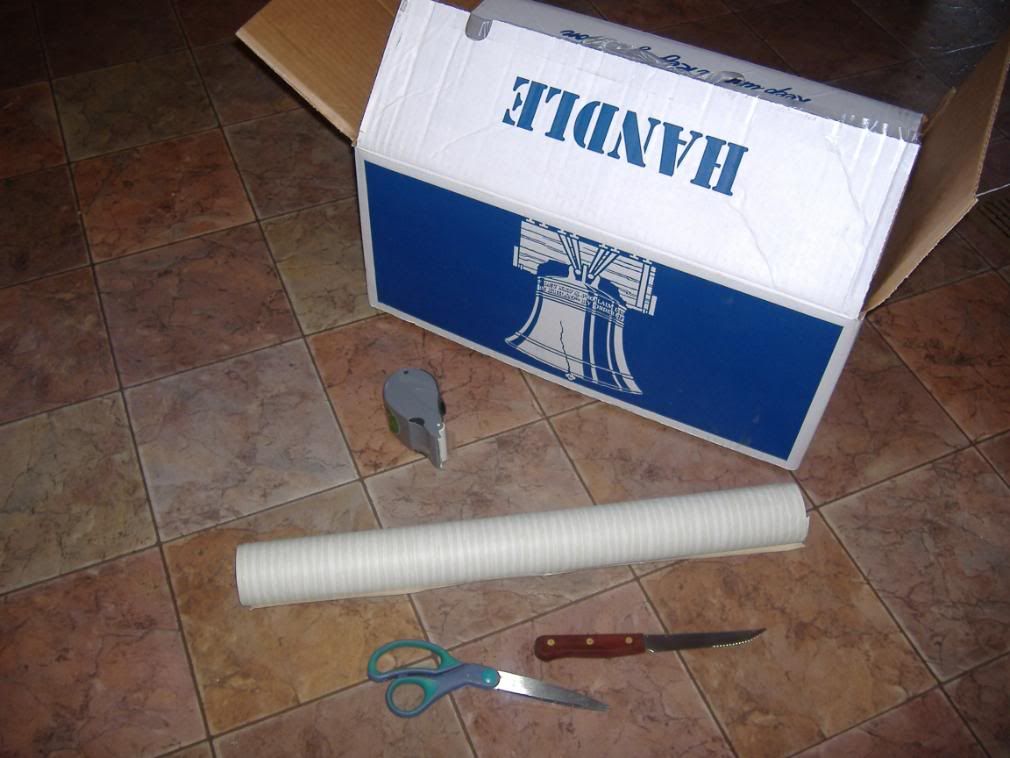 I used a kitchen steak knife to cut off the top flaps on the box. Like I said, this was a nice sturdy box and the scissors just weren't going to do it.
Then I cut a piece of wallpaper long enough to wrap all the way around the sides. From there on out, it was like wrapping a large birthday gift. I used regular old clear packing tape to secure the paper. This box will be pulled on and off the shelf, so I made sure that all of the seams on the bottom were taped down securely, with nothing that would catch and tear as the box was dragged over the shelf.
If you were using fabric for your covering I would consider using something like duct tape to ensure that it stayed. Another option might be a glue gun, but I'm not sure how that would stand up to repeated abuse.
I knew this box was going to be up high, and that the interior and bottom wouldn't really be seen by anyone except me. Because of that I wasn't concerned with covering the inside or the bottom. If I had been I could have cut a square piece that would have completely covered the bottom, and somehow figured out how to line the inside.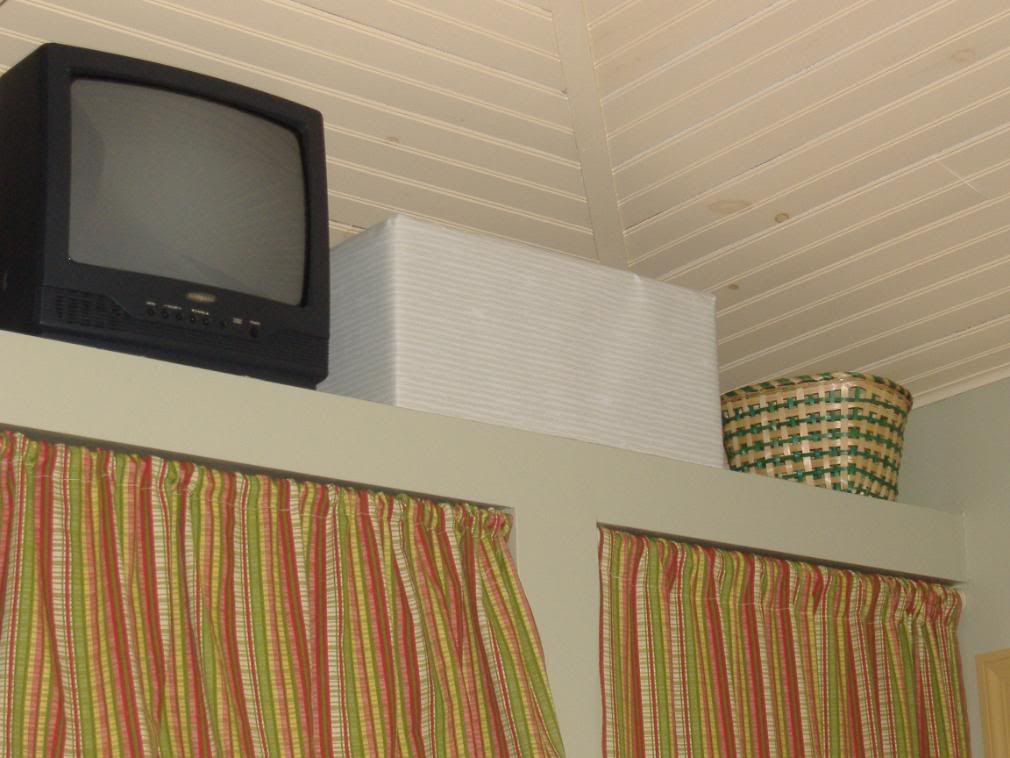 Here the box is in it's new home. It may not be the most beautiful thing in the world, but it is far from the ugliest. I can live with it!