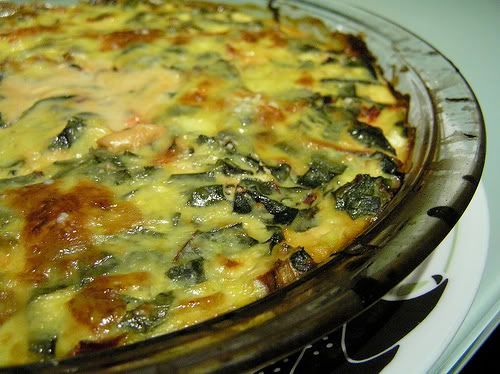 As summer rolls around my thoughts turn from thick hearty piping hot stews and casseroles to lighter (and cooler) fare. I especially love recipes that I can cook the night before, when the house is at it's coolest, and then simply serve cold or warm up in the microwave.
Quiche is a perfect meal for this. Eggs are an inexpensive form of quality protien, and for a filling you can use up lots of little bits and bobs you have in the fridge! Serve with a nice tossed salad and bread, and you have a lovely meal.
Quiche freezes like a champ, so when you cook consider making 2 and freezing one for later. Then you'll have an easy, avoid the drive through meal in the freezer, potluck take along, weekend brunch or a classy meal to drop off to a friend in need.
The most intimidating part of a quiche for me is always the crust. With this "crust-less" version that worry is gone! (of course you could always make the same and just put it in a crust) Also, by adjusting the amount of cheese and using the fat free evaporated milk (instead of whole milk or cream) you lower the calorie count drastically. You could even use just egg whites* instead for a truly diet conscious meal!
Crust-less Quiche

1/2 to 1 C Cheddar Cheese
4 Large Eggs
1 C Evaporated Skim Milk (NOT condensed!)
1/2 tsp Salt
1/2 tsp Dry Mustard
1/4 tsp Nutmeg
Pepper
Add Ins (see below recipe)
Grease, oil or spray your pie plate and preheat oven to 400 degrees.
Place cheese and add-ins into the pie plate.
Wisk eggs, skim milk & seasonings together and pour over add-ins
Bake for 30 min or until top is slightly brown and quiche is set. The very center may still giggle slightly, but not the whole pie.
Add Ins
The important thing to remember with add ins is that additional moisture content effects the way the quiche sets. If you are going to add a frozen vegetable, one that you've precooked in water, or something inherently watery like fresh tomato, drain very well or be relatively sparing. Fresh greens like spinach and chard straight out of the garden can avoid this issue.
You can add in anything that sounds good to you. As a rule of thumb about a cup of chopped meat and/or a cup of chopped vegetables.
Quiche is an especially good way to hide fresh veggies that are starting to go just a little bit past their prime (think broccoli that is going yellow) or those few tablespoons of various veg left over from the week's dinners. Some classic ideas are Spinach & Mushroom (drain very very well if frozen), Crabmeat (canned or fake), Ham & Broccoli, and Bacon or Sausage .
For another type of crustless quiche try this one at Recipezaar: Crustless Quiche. It uses just 1 or 2 eggs and 3/4 c flour to stabilize and "set" the quiche.
Have you made quiche before? What are your favorite add ins?
*Equivalents: 1 whole egg = 2 egg whites (to reduce fat; may make baked goods less tender)
Photo by Laurel Fan