GIVEAWAY CLOSED
Several years back Yankee Bill, Princess, Buddy & I moved from a squat uninteresting 1100 sq ft 1970's raised ranch into a gorgeous old 3000 sq ft Victorian built somewhere around 1890.  The place is in fabulous shape-well loved and well taken care of for all that time. . . which is why you don't see tons of posts on how to renovate your home cheaply 🙂
One of the things I adore about the house is the woodwork. With the exception of a single room at the top of the back stairs (which we think originally were the maid's quarters) every single window and door frame has gorgeously carved, original, unpainted chestnut woodwork.  We are talking 86″ windows here. There are the original pocket doors, and all the original hardware & doorknobs.  And of course, since there was no such thing as wall to wall carpeting in 1890, there are wooden floors throughout.
As in 85% of the house is hardwood floors. The kitchen has linoleum.  The tiny downstairs bath has been redone with laminate (which does make me wonder what happened in there).  Our third floor bedroom (which was recently created from the attic by the previous owners) has wall to wall carpeting in the bedroom & linoleum in the bathroom.  The rest of the house, all 4 bedrooms, 2 livingrooms, entry, diningroom & study are all hardwood.
That's a lot of wood to keep up with!  Before we moved in we made the decision to have all the floors on the ground level refinished and left the ones on the second floor as they were-after all, the kiddos would just destroy them anyway-we can have those done once they hit teen years.
Those floors looked GORGEOUS when they were done. People would take off their shoes when they entered the house to preserve that deep gorgeous shine~without us even having to ask!
But that was over 2 years ago.  Although we haven't abused the floors (no rollerskates in the house or anything) we have lived here. The floors are still beautiful, but they aren't so shiny-and with the fall, a new puppy, children who can't seem to remember to take off their shoes and just life in general they seem to be dirty more often than they are not.
I've tried several methods of care. I've used a mop with a mild detergent and vinegar. That was ok.  I tried a floor care product that was super shiny for a day and then looked worse than before I started. I bought a steam mop, which is my current preferred method.
So when the folks from Black Diamond Stoneworks contacted me and asked if I'd be willing to review their environmentally friendly WOW! Wood & Laminate Floor Cleaning System I figured what the heck!
As I've been doing lately, I created a Whrrl story with in depth pictures & commentary-you don't need an account or anything to view the story (sort of like a slide show) but you do need a free account if you want to comment over there.
Here is the condensed, low picture version 🙂
This kit retails for $29.95, and the refill bottles of cleaner run about $7 .
According to Black Diamond Stoneworks:
Black Diamond Stoneworks Wood Floor Cleaning System is the complete wood floor cleaning set for all un-waxed natural wood and laminate floors. This kit comes ready to clean with the WOW! Wood Floor Cleaner, a heavy duty cleaning mop and a Microfiber Cleaning Pad.
The mop is quite sturdy for this sort of thing-it even has metal screws to hold the sections of the handle together which I liked.  The microfiber cloth had a much deeper pile than any other I've seen and had a couple of stripes of "tougher" purple fibers in there to help scrub.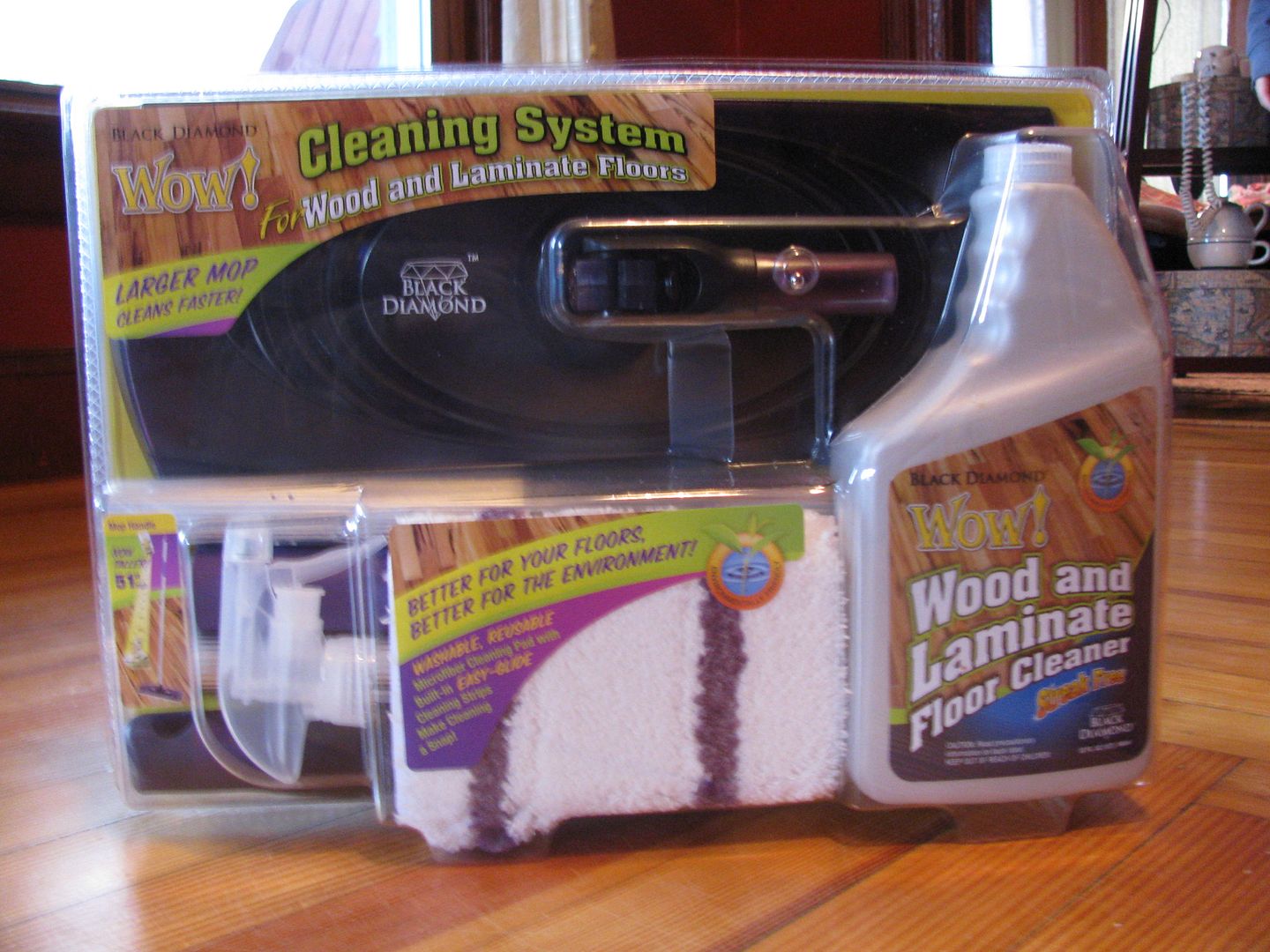 The process for using it is simple.  You dry mop, sweep or vacuum the floor to remove large particles.  Then you simply spray the floor lightly with cleaner and then mop. You do a section about 4'x6′ at a time.  The spray bottle contains enough spray to do 10 to 12 standard sized rooms.
To ensure a streak free finish the directions state you must continue mopping until dry.  I wasn't sure if I was really supposed to keep mopping until there was no moisture at all left.  The mop cloth gets damp right away, and then you are just swiping that same wetness around. I figured when it was MOSTLY dry I was good enough.
I found the spray and mop method to be much less messy and time consuming than a classic mop and bucket or even my steam mop.  It was a bit more energetic to have to keep mopping the same sections over & over until dry-but hey, I could stand to burn a few extra calories each day.
I liked the construction of the mop.  The head was much wider than other microfiber cloth mops I've tried and the quality of the actual cloth was superior.
I also liked the fact that the system is environmentally friendly.  The ingredients are water based and non-toxic, so you don't have to worry about having them around small children or pets.  (You can check out the Material Saftey Data Sheet if you like)
The floor cleaner performed adequately.  When I was done the floor was clean-but not particularly shiny.  I'd say that it was probably a bit less streaky looking than when I use a mop and bucket-about on par with when I use my steam mop.  It did not give me a hugely improved shine-but maybe my goals are unrealistic for this kind of product.
I do realize that this is a product formulated for regular use-so I will continue to use it.  It is possible that as it continues to clean off the residue from other products I've used that there will be more shine.
So now on to the fun!  The giveaway! I have two complete WOW! Wood & Laminate Floor Cleaner Kits to give away.
This giveaway will run from Tuesday December 1st until Monday December 7th.
To enter:
#1-Go to the Black Diamond Stoneworks site, come back and comment answering the question "What Black Diamond Product would you most like to try" or "What new cleaning tip did you learn on the Black Diamond website?"
Want extra entries? Each one requires a separate comment.
#2-Subscribe to Frugal Upstate (or let me know you already are)
#3-Follow Black Diamond Stoneworks on Twitter (http://twitter.com/BDcleaners)
#4-Become a fan of Black Diamond Stoneworks on Facebook (http://tinyurl.com/yjamqex)
#5-Tweet/post to Facebook about the giveaway with a link back to this post. This may be done daily but you MUST come back and comment each time.
Good luck everyone!
Don't miss out on the $2 off printable coupon for the WOW system
***This is a sponsored post***