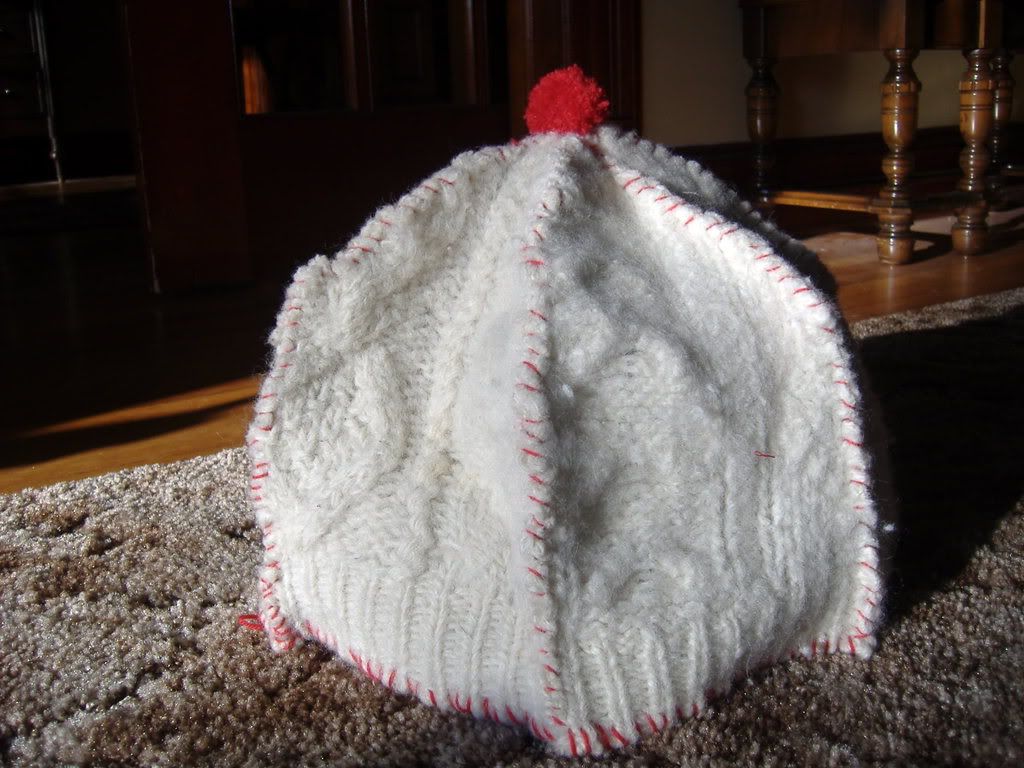 I am the first to admit that this tea cosy is not exactly a work of art. It's a little homely now, but I intend to eventually embroider some simple starbursts on it in red-that should dress it up a little.
This project came about for two reasons. Number one, as dorky as it sounds, I realized I needed a tea cozy. I like to make a pot of herbal tea in the winter to keep me warm and stop me from noshing too much on snack food-but the teapot cools down way to fast. Number two, my sister came to visit and accidentally shrunk a cableknit wool sweater.* I know that wool is one of the best insulators out there, so I thought it would make a good tea cosy.
Now I've seen tea cosys that were made from felt and were basically 2 semi circles sewn together-sort of like this one that I found on flickr:
Photo by dytay via flickr.com

For some reason I decided that was just too easy, so I decided to make a more 3D version. I cut out a petal shape from paper that looked about right. Then I made 5 more and taped them all together to see roughly how it would all work out. They were a little too pointy, so I rounded them a bit and then took it apart to use for a pattern.
Here you can see where I cut one out of the sweater. I purposely used only the bottom part of the sweater because I wanted the ribbed end of the sweater around the bottom of the cosy.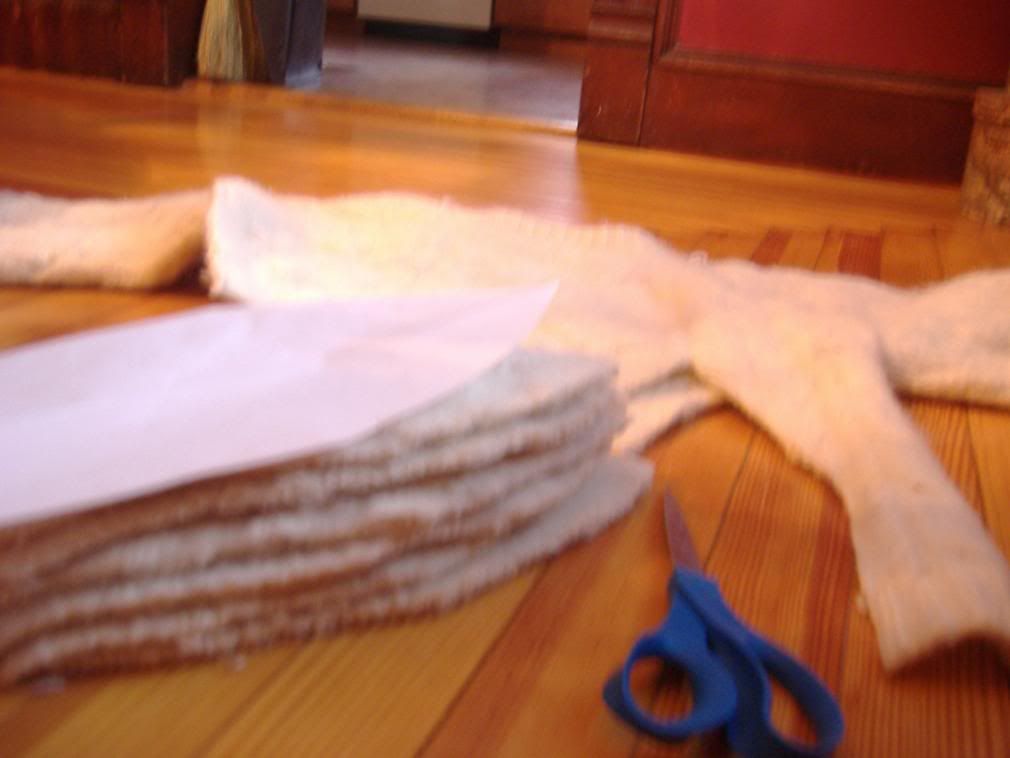 Here are 6 all stacked up. I later decided that was too big and reduced it down to 5.
I figured that I'd go for a semi-primitive home crafted look, so I put the stitching on the outside. To make it even more obvious and decorative I opted for red yarn. I could have sewn it exactly the same way but then turned it inside out at the end for a smoother look.
More stitching. . . I also whip stitched around the bottom edge for more "red".
When I was done there was a hole at the top, which I just stitched across a couple of times, and then covered with a pom pom made out of the same red yarn.
Ta-da! A slightly over sized wool tea cosy. I tried it out immediately- and it works!
I've still got both sleeves left, as well as some of the wool at the top. I've been thinking that I may make a pair of slippers out of that-since my feet are ALWAYS cold in the winter. There is a nice template on Martha Stewart. She also has templates for baby slippers made of felt. These assume that you are going to buy felt, but a felted thrift store wool sweater would work as well.
Need more sweater related ideas. This article at DIY Life has 10 ways to reuse an old sweater.
Oh, and just in case you've been lucky enough to never accidentally felt a sweater and are not sure how to proceed, here is an article at Supernaturale on Felting: it's magic and mayhem.
*Note: She wasn't all that upset-it was in a box that I had been storing for her for over 5 years as she has moved about the country. It had belonged to a very X boyfriend of hers, and she had forgotten that she even had it. So she wasn't terribly torn up about her loss.