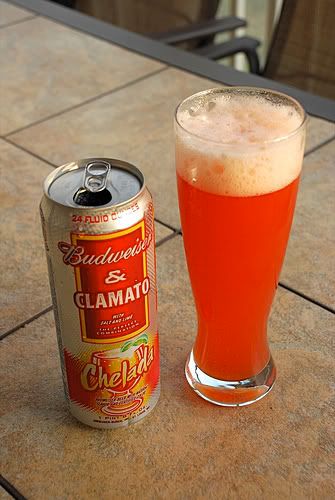 My husband has been on a Chelada kick lately.
For those of you not in the "know" Chelada* is a new beer put out by Budweiser that is a combination of beer and clamato juice.
I know. It sounds disgusting. This drink is one of those things that you either hate or love.
Hubs loves it.
Anyway, after a few weeks of him buying a couple of cans each week to "treat" himself I started thinking about the expense. After all, they are selling them individually for over $2 each.
The frugal gears in my brain started turning. Hmm-is there anything in there besides beer and clamato? I checked the label-just those two ingredients.
Ok, well what about the proportions? Well, the can is about twice the size of your average beer can, but according to the label the alchol content is the same as a single 16oz beer.
OK, so logically that should mean that if I pour a regular beer into a large glass (we have very tall German beer glasses that the store bought Chelada just fills-like the one in the photo) and then fill it to the top with clamato, I should have my own homemade version.
So we tried it. Hubs actually prefers Coors Light to Bud, so we used that. . . Guess what? He actually likes it better than the one in the can-and it is less expensive.
Tada! Frugality wins out!

*according to my research,the Bud Chelada doesn't really reflect what one would normally expect to be a chelada. . . I'm just going with the name they use folks, so don't correct me!