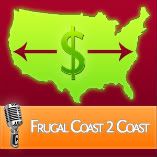 Need help with clutter control and organization? Can't seem to stay on top of your life and all it entails? Our next show is for you!  This coming Monday, September 14th at 8:30 pm EST Frugal Coast2Coast will have special guest expert & author Marla Cilley-better known to her thousands of fans as "The FlyLady".  We will be talking about "Clutter Control and the Flylady System".
Lynnae and I are just so excited to talk with Marla again that we can barely stand it!  We both had read her book and implemented portions of her system (note to self, get back on the Flylady system) well before meeting her online.  She is a fabulous and fun lady-the show is going to just fly by! (ha ha-fly, get it?)
You are not going to want to miss this show live, but if you MUST. . .just remember it will be available as a podcast for your future listening enjoyment! You can always find our episode player on the "Frugal Coast2Coast" blog, as well as the show notes (links mentioned on air etc) for each and every show.
While you are over at Frugal Coast2Coast don't forget to sign up for the newsletter.  This is a joint Frugal Upstate & Being Frugal.net newsletter which will be published once a month.  It will not only include the best of both of our blogs, but also NEW material not seen on either blog.  To add to the excitement we will do a random prize drawing each month from among the newsletter subscribers.  You don't want to miss out on all of that! So even if you already subscribe to me through email, you need to hurry on over and sign up for the Joint Frugal Coast2Coast Newsletter as well!