I know that in the past I've extolled the wonder of Mapeline. But I have to admit-it doesn't hold a candle to real maple syrup!
Yankee Bill grew up helping his Dad run a sugar shack early every. This was the real deal-100's of maple trees, a truck with a tank and pump in the back to empty the sap buckets, and a weekend of non stop tending the fire to make sure the sap cooked down to yummy maple syrup. Apparently it was a heck of a lot of work-but that money was what the family used each summer to pay for their vacation!
Cut forward to this year. There is a big old half dead tree at the end of our driveway in this house that we bought in November. We are planning to have to have it cut down for various reasons this summer-but the tree guys told us it's a sugar maple.
So YB decided to take a trip down memory lane. He found 3 taps and buckets leftover from the old sugar shack up at Mom's place, and drilled the tree. The kiddos enjoyed drinking some maple sap right from the tap!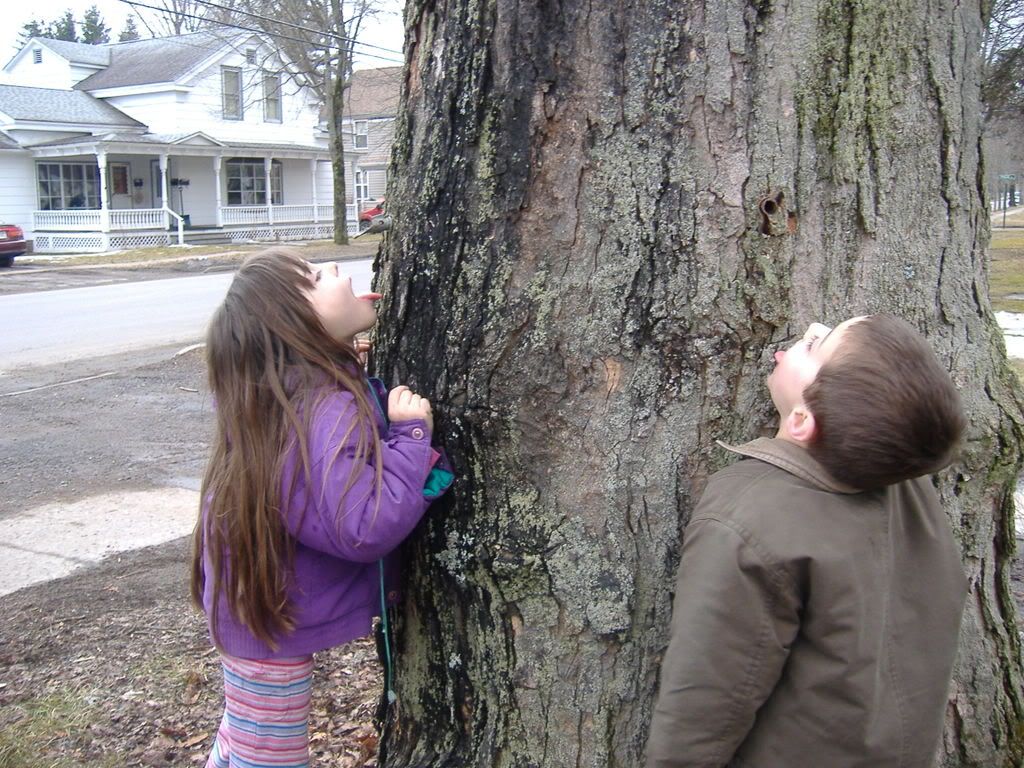 We used several large coolers as a holding tank. I couldn't believe how much sap we got from that big old tree.
For the last 2 weekends we've boiled sap in our big turkey fry-er on the back deck. Once it had boiled down by about 2/3rds, we moved it into my biggest crock pot inside and left the lid off to allow for evaporation. Then the next batch of sap started on the burner. Then we filtered it by straining it through a fine cloth.
The end result is a little bit thinner than what you would buy at the store, but just as sweet and delicious. And of course not a bit of high fructose corn syrup to be seen.

We joked that we were probably spending more on propane than the syrup is worth, but in the end we wound up with 5 quarts of the most delicious syrup. And real NY maple syrup runs about $10 a pint. I'd say we probably came out $70 to the good on that one (not that I would have bought that much of the real stuff), plus the fun and education the kiddos got in watching and participating in the whole process.
Smells can be so evocotave of memories-YB and Mom were able to spend a few quiet moments out on the back deck, breathing in the steamy smell of syrup and remembering Pop.
And what do you know, it looks like that large tree on the back of the property might be a maple as well!