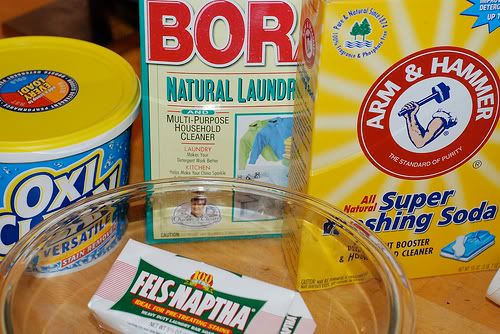 Lately I've had a few different questions come in about my Homemade Laundry Soap recipe. I thought I'd share them all here-so everyone can see the answers and add in their own knowledge!
Dear Frugal Upstate,

I have a laundry question. I recently started making my own laundry detergent and softener. Thanks for the recipe. However, my DH noticed that it is fading the color of our clothes do you have any suggestions?

Devon
Wow, Devon, that's a new one to me. I've been using homemade laundry soap for over 5 years and have never noticed any fading! Readers, I need your help. Has anyone had this issue? Any suggestions?
Dear Frugal Upstate,

I have to use HE detergent. Has anyone tried the homemade laundry soap in an HE machine?

Thanks,
Flo
One of the interesting things about homemade laundry soap is that it does NOT foam up like traditional store bought detergents. This actually throws folks off when they first start making it-we've been trained by brands to EXPECT a whole bunch of foam. From that fact I would guess that homemade laundry soap would actually work quite well in an HE machine. However, I can not swear to it, so try it at your own risk. I don't want anyone blaming me for an overflow!
So what do you all think readers, has anyone tried the homemade soap in their HE machine successfully? Please share!
Dear Frugal Upstate,

I have wanted to make the laundry detergent for ever. I have looked for the items needed, the only thing I cannot find is WASHING SODA! Where can I purchase this item?

Thank you,
Jaycee
If you've looked and can't find washing soda at your local stores, I recommend contacting Arm & Hammer directly and asking them which stores in your area carry the product. I did this myself when I first started making the detergent in Virginia, and then again when I moved to New York.
I simply went to the Arm & Hammer website and searched around until I found the "contact us" section (I'm not sure that is exactly what it is labeled). Then I sent a note telling them I was looking for Washing Soda, gave them my zip code and asked them if they could tell me what stores in my area carried it. It took a couple of weeks, but they did email me back with the names of several stores in the area.
I've also had readers say that washing soda is the exact same chemical compound as something used in swimming pools, and that they have purchased it at their pool supply stores, but I'm a little fuzzy on all those details. Readers, if you know about that, please weigh in!
So there are the laundry soap related questions I've been asked recently. Do you have any others?
If you are interested in seeing exactly how the laundry soap is made (and to see my smiling face), check out my Vlog: Making Laundry Detergent. You might also be interested in reading "Is Making Your Own Laundry Detergent Worth It?".
Photos by Garden Hoe