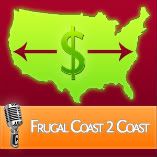 This coming Monday's topic on Frugal Coast2Coast is "Ask the Frugal Chicks".  In order to round up some fantastic questions, we are entering everyone who asks a question into a giveaway for a Flip Video Camera !
Here's how it works!
You will get one entry per original question about frugal living posted in the comment here on Frugal Upstate. YES-THAT MEANS YOU NEED TO READ ALL THE OTHER QUESTIONS-DUPLICATE QUESTIONS WILL BE THROWN OUT.
You can get ONE extra entry by tweeting about the giveaway (use this URL: http://budurl.com/25hf )
You will get 5 entries per question if you call in to the show on Monday night (8:30 EST) and ask your frugal living question live on the air!
The winner will be drawn randomly from all valid entries and posted on Tuesday, June 30th.
I can't wait to read all your questions!
*Thanks to the lovely folks at Oscar Mayer for giving me a Flip Video Camera to give away as I saw fit!