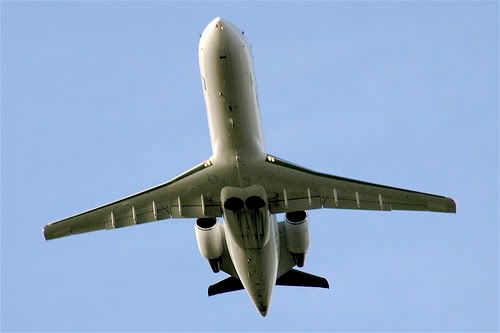 I'm heading off via airplane to the big SXSW conference in Austin today. Lately I have turned into a traveling fool! In the last 6 months I have has more flights than I have been on in the last 6 YEARS.
Being a frugal gal, as you all know I am, I try my best to keep my costs down while traveling. Here are the top 3 ways I like to save money while traveling:
1-Don't check a bag
If there is any way that you can manage to pack everything you need in a rolling carry on-do! Many airlines are charging $15 for the first bag and $25 for the second bag for each passenger. If you bring a roll on bag you are not charged-even if they wind up checking it at the gate. That is at least a $30 savings per trip
2-Bring a water bottle
Drinks are not only expensive in the terminal, but many airlines are now charging for drinks on the plane as well! And we all know that you are not allowede to bring bottles containing over 3oz of liquids onto the plane. There is no problem bringing an EMPTY bottle through security. I go through security then stop at the first waterfountain I see to fill up the bottle. Don't like the taste of fountain water? Buy a package of those drink mix "sticks" and flavor it up. This also keeps me from buying drinks at my destination! Savings-about $3 per fill up.
3-Bring your own food
As long as it isn't liquid, you are free to bring food through the security checkpoint. If you bring along some granola bars, homemade snacks, even a sandwich, you can save major denero over buying food in the terminal. I've seen plain old tuna sandwiches that cost over $7. . . Again, many airlines are charging for meals on the plane (or skipping them all together) so bring along enough for the flight as well for snacks at your eventual destination.
So what tips do you have for saving money when you travel?