Princess had her Hannah Montana themed 7th birthday party last week!
Last year I was able to spend just $51.50 on Princess's "Princess Theme" 6th birthday party, so I had set the bar pretty high (or is it low?) for myself.
We decided to keep things pretty simple this year. I have found that it is easy to go overboard with a theme, games and activities, only to find that younger kiddos just want to run around and play with each other instead of being "forced" to play organized games on a specific schedule.
I created invitations to the party in Word using a picture of Hannah Montana that I found online. Each invitation used 1/2 a sheet of paper and fits inside an "invitation" size envelope-which I always keep a box of on hand. We made 10, so that was 5 sheets of photo paper and 10 envelopes. There is obviously some cost associated with it, but since I keep all of those things on hand I consider it negligible.
Princess handed the invitations out to her friends at school, so there was no mailing cost.
The day before the event I bake up 2 boxes of yellow cake ($.89 each at Aldi's) and made my usual frosting recipe from powdered sugar (approx $1). I always have the shortening, milk, food coloring, flavor extract, candles, icing bags and tips on hand. Total cost for the cake, $2.78.
I was given some awesome ideas for cakes by readers. Guitars, icecream cone cupcakes as "microphones", stages complete with curtains. . . In the end I ran out of time an creativity! So we created a very basic stage and placed Princess's Hannah Montana barbie doll on top (I stuck a chopstick up each pant leg and then stuck about 2 inches of the sticks down into the cake). Princess chose the colors and helped with piping on the decorations. To be honest, I don't think it was anywhere near as nice as my previous cakes, but she was thrilled and her little friends were impressed. So who am I to argue-after all, this is her birthday and about what SHE thinks is good.

On the afternoon of the party, the house quickly filled with 8 laughing, shrieking 7 year old girls. (Yankee Bill vacated the premises!). We popped our Hannah Montana CD in the stereo for ambiance (do 7 year olds even care about ambiance?) As folks arrived Princess gave them a quick tour of the house, centering on her bedroom of course, and then they all ran around yelling and playing for a bit.
When folks stared getting a bit out of hand (I think every single kid wound up wearing something different than they arrived in-Princess has a closet full of dress up clothes I've purchased at thrift stores for a pittance), we calmed them down by having them color.
I had found a free printable Hannah Montana paperdoll online. I copied the pictures of the clothes, then used Paint to change them to black and white pictures. I cut out the doll portion and included it with their treat bags, and gave each girl 2 copies of the clothes to color in using a package of colored pencils and "twistable" crayons that were from Princess's art box. This activity quietly occupied most of the girls for at least a few minutes. When they were done I simply wrote their name on the sheets and placed them next to the pile of treat bags to be taken when they headed out. The cost was negligible.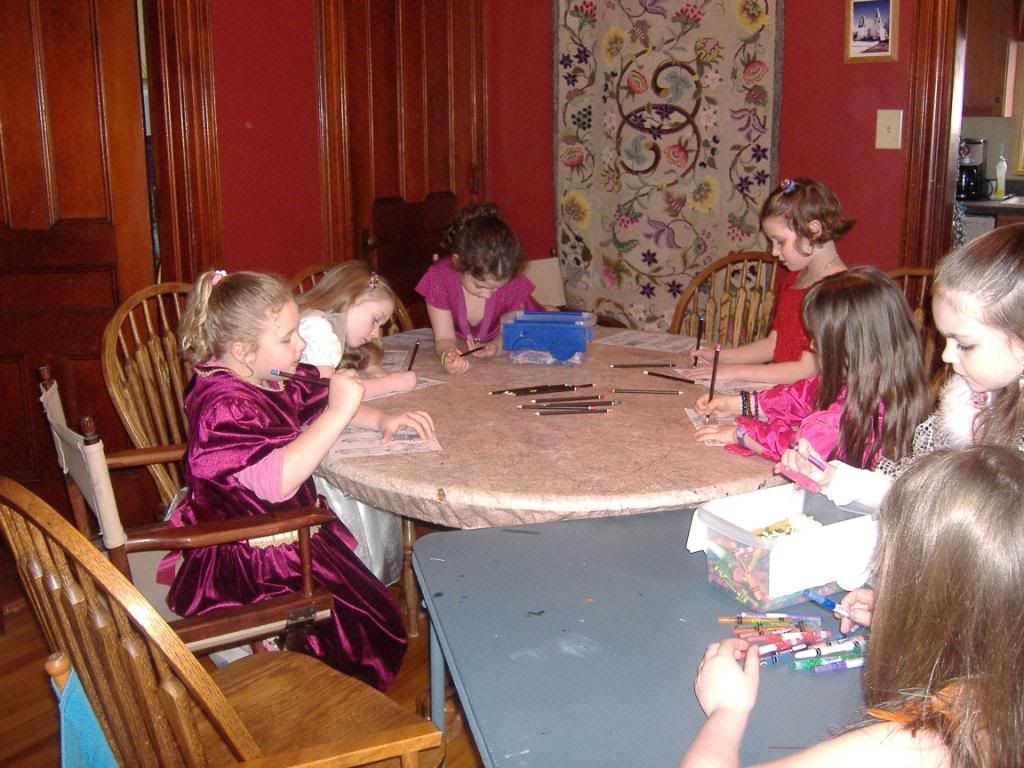 Speaking of the treat bags, I kept it simple but they wound up looking pretty fancy. I bought 2 packages of candy necklaces at the dollar store ($2) and a a box of 12 tiny bubbles ($1). At another dollar store I found a roll of temporary tattoos ($1) that were all pink sparkly princess designs. I cut them apart and each girl got 2. Then I printed out an 8X11 concert picture of Hannah Montana that I found on Flickr. I used good photo paper so it came out as a nice "poster" for each girl. Total for "treats" (not counting paper and ink cost) $4.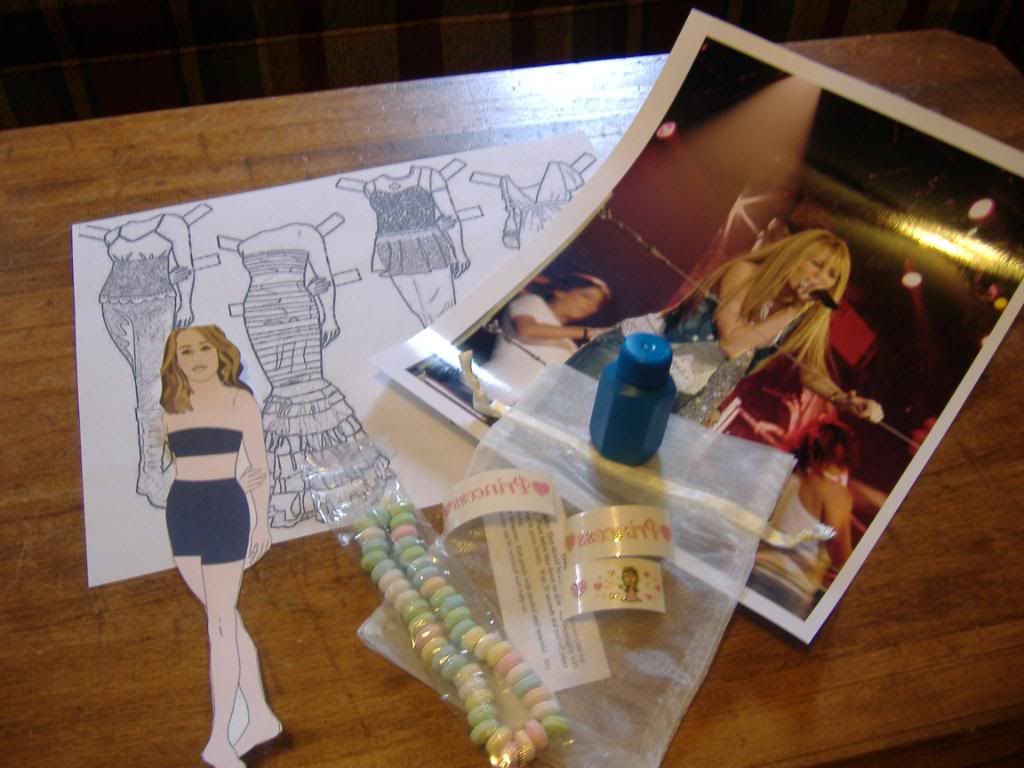 The day of the party I had realized that I didn't have a bag to put the treats in. I frantically dug through some of my stashed supplies and found a package of 12 Wilton white sheer drawstring bags that I had picked up at a dollar store almost 2 years ago. Total cost, $1.
I put the treats inside, rolled up and taped the Hannah poster, and tied the bag's strings around the tube of the poster. Then I slipped the paper doll into the center of each rolled up poster. They came out looking way more expensive then they were!

After the coloring, I pulled out the Karoke machine ($35) and CD's ($20). This was a rather "extravagant" purchase, but it was also part of Princess's gift. I did find out from talking to some of the other mom's that several of them already owned Karoke machines and CD's, and they would have been happy to lend them to me if I had asked. So although I spent $55, I could have done the exact same thing and spent $0. I think that this purchase will provide us with hours of fun over the years-especially with the personalities of Princess and Buddy! As a matter of fact I had to banish the machine for a while, because they had the echo cranked up and were driving me insane.
But back to the party. Some of the girls played around with the Karoke machine, a few were still finishing up their coloring, and the rest were upstairs playing in Princess's room.
Then, almost simultaneously, all the girls started saying they were hungry! Good enough for me, I decided it was cake and ice cream time. I had purchased some flowered paper plates, pink napkins, and pink cups. I used my regular kitchen forks, sent Yankee Bill out for icecream at the last minute (before the party started-$3) and mixed up a pitcher of lemonade -Total $7.50.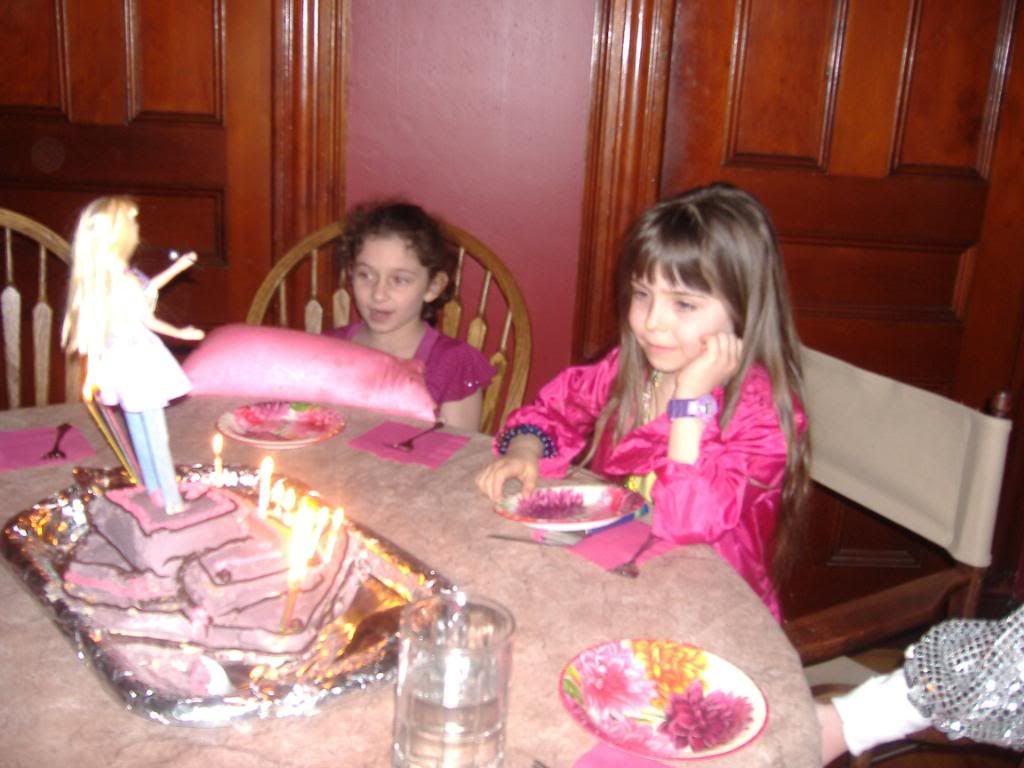 After much oohhing, ahhing over the cake (it was a hit with the crowd) and of course eating, we moved on to Princess's favorite part-opening gifts. This didn't take very long. It is just amazing how fast a 7 year old can rip through wrapping paper! One quick tip-the kids are still young enough that they tend to crowd right around the birthday girl, trying to see each gift. Only 2 or 3 can get right up there, and then the rest whine about how they can't see. To combat that a little I had everyone sit back a bit, and then had them pass around each gift after Princess opened it (just like they do at baby and bridal showers etc). This way they each got to see everything, and they did stay back. Well, at least a little bit.
Then it was back to semi controlled chaos for a while. There were kids still coloring, kids standing on the coffee table singing karoke, and kids upstairs playing with Barbie's and playing dress up. I even popped a copy of "High School Musical 2" from the library into the DVD player for a few kids. About 20 minutes before the parents were set to show up, I corralled them all together, had the ones wearing my daughter's clothing change back into what they came in, and set them at the dining room table for one last craft-decorating movie star sunglasses.
For that I had purchased 2 bubble packs of sunglasses at Wally World ($4) and a package of small jeweled stickers from the dollar store. Each girl got a pair of glasses and was able to stick a few stickers on.
Right on time the mom's and dad's started showing up and the party was over. I was tired, the house was semi trashed, but Princess was happy with her party!
Grand total spent? If you include the Karoke machine and CD's, $75.28. If you consider those items to be gifts, then the total was a mere $20.28.
Now of course this party was geared for fairly young girls. It was held mid-afternoon, so there was no need for lunch or dinner type foods. I didn't go nuts on decorations (they were almost non existent) and didn't insist that every item matched and was part of the "theme".
There are many ideas of how you could update this party for an older age group:
The Karoke segment could be much more formal-you could have each girl sing a song while the rest of the kids were an "audience".

You could play "paparazzi" and take picture of each girl as they came in the party.

Some of my readers suggested a snack table set up as if you were in the "green room" at a concert, stuff like separating the m&m's out by color, or having "designer" type water. This was a wonderful idea, but at 7 I didn't think Princess even knew what a green room was. . .

Making a "walk of stars" on the floor near the entrance door.

Play "Hannah Montana Bingo" with cards you make yourself.

Do "rock star" makeovers, either by yourself, or even by calling your local Mary Kay rep.
Need even more ideas? Check out this website with Hannah Montana party ideas. Just don't succumb and buy all the themed paper goods 🙂
Want more frugal birthday ideas? Check out these articles from my archives:
Birthday Week (in a Birthday Month)
It's the Thought that Counts (Birthday Present Philosophy)
Making Invitations in Microsoft Word
Birthday Decorating on a Dime
Barbie Birthday Cake
Just Hit It (Making a Pinata)
Birthday Fun and Games
Throwing a Party Fit for a Princess-On a Budget
Making a Barbie Birthday Cake Part I and Part II