This is the second year at the Frugal Upstate household that we have made our own, real, upstate NY maple syrup.
I have to admit, this project is completely Yankee Bill. He grew up with his Dad doing a very large scale maple syrup production out in the woods every year with a friend. It was an actual business-they made enough money each year to finance the family's annual vacation. So obviously there are fond memories associated with the task.
Last year we started out by tapping the large maple that stood at the end of the driveway. We got tons of sap and made several quarts of syrup. . . but the tree had to be cut down during the summer (it was half rotten and blocked the driveway. . .) We were very happy to discover that the large tree shading the back of our lot is also a full grown maple, so syrup production was able to resume this year.
Yankee Bill has the taps , buckets and little tin bucket roofs left over from his dad. Actually-we only have 3 sets, but those are plenty for our purposes (although the tree could probably handle a total of 5 or 6 buckets). He drills in the taps and sets up the buckets.
As the sap flows he empties it (usually once a a day) into a big cooler we have that he has set into he kids radio flyer wagon. When the cooler is full he drags it to the back deck which is our impromptu "sugar shack". There he has set up the big turkey fryer. Yes, you read that right, the turkey fryer.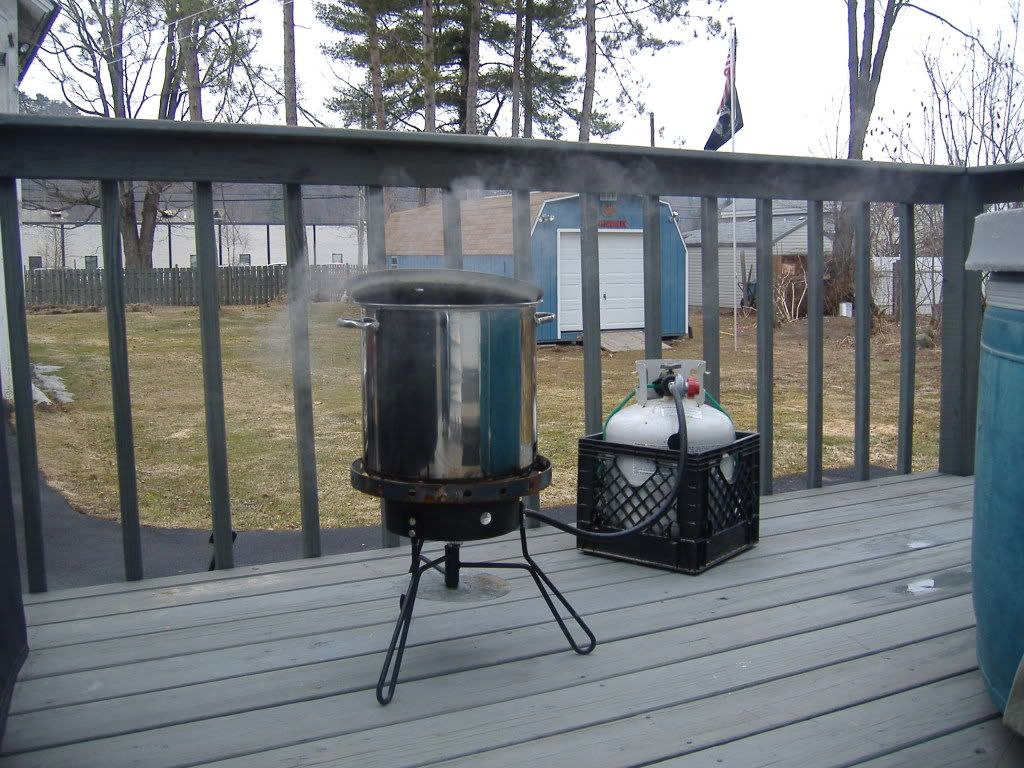 Basically it is just a huge aluminum pot on an outdoor propane burner stand. So he pours all the sap (which at this point looks and tastes pretty much like water) into the pot and sets it to boil. It will boil along for about 8 hours total. He will frequently set the timer in 1 hour increments towards the end to make sure he keeps checking it. . . there was an incident of burned syrup last year. . . .Sometimes it just has to take a break because we will be way from the home, or asleep etc. Then we just turn it off and cover it-leaving it where it stands. At that point it will have boiled down to the point where it is only about 2 inches deep in the pot.
Then he brings the sap inside (it isn't syrup yet) and pours it into my largest crockpot-which is then set to low with the lid off for another 8 hours or so. Again, it is checked at intervals. . . when the flavor seems right we strain it through a felt bag I made and into a large pitcher (there is a bit of sediment in it-not harmful, but not pretty) and then store it.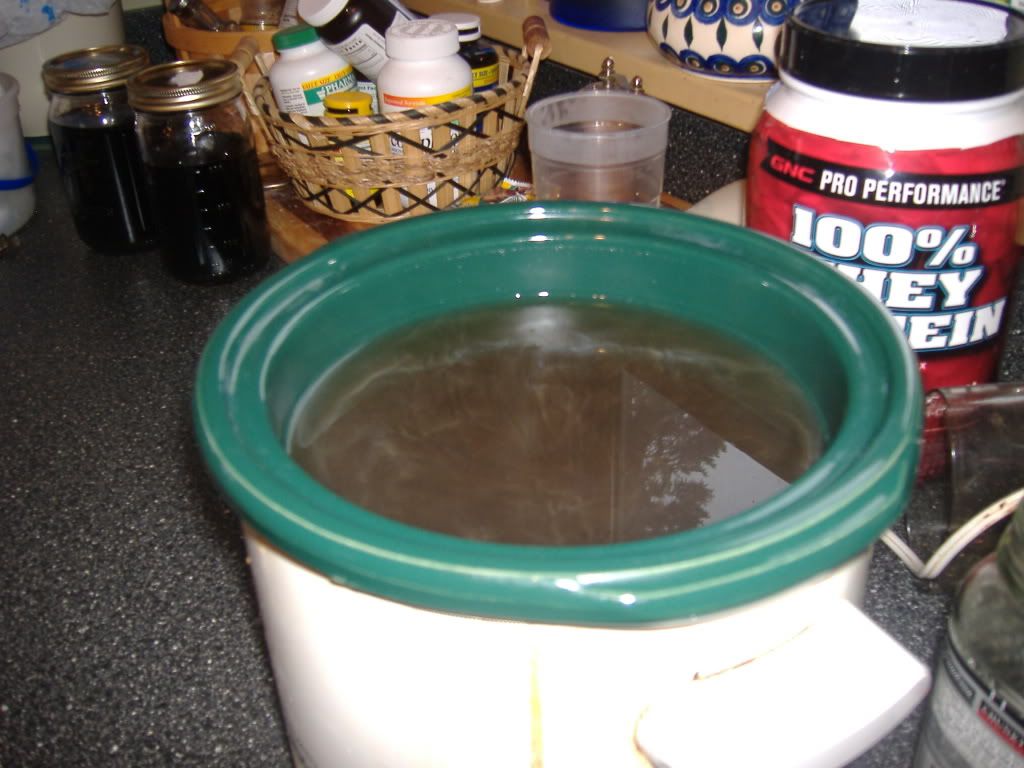 We have to go on taste as hubs has not been able to find the old hydrometer his dad used to have. Sometimes it comes out thinner than the standard store bought syrup. . . but the taste is fantastic, so who cares?
Thus far this year we've already made over a gallon of syrup. Today is another cold snap-which I hate for lifestyle reasons (spring, please just come already) but love for maple syrup production-those cold snaps followed by warming keep the old sap running!
Is this activity cost effective? Well, I guess that depends. Yes, we've used some propane. And it has taken several weeks (although much of that time has been unattended cooking time) and some effort. On the other hand, this brings back fond memories for Yankee Bill and he enjoys the process of making something (very satisfying as you know). To be blunt-real maple syrup is damn expensive-I've seen it for over $10 for a little pint, so our gallon plus is probably worth $80-$100 dollars.