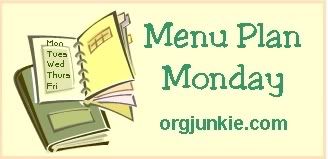 Welcome to December everyone! I trust you all had a fabulous Thanksgiving week. After reading my meal plan, don't forget to stop by and enter my giveaway for a $500 Walmart Gift card-sponsored by Nickelodeon!!! Can't miss that, right?
Here we go:
Monday: Pasta Bake, Green Beans, Canned Peaches
Still have leftover redsauce with shredded up venison in it. Will mix with pasta and cheese, bake and viola, call it dinner!
Tuesday: Papa's Choice
I've got a speaking engagement in Syracuse–"The Corner of Frugal and Green" how to have both a green and frugal holiday. Anyway, I'm the keynote speaker at a dinner, so I'll be gone long before dinnertime. I know from experience it's better to just let Yankee Bill take them out than to leave a meal that doesn't get eaten because he takes them out instead 🙂
Wednesday: Turkey Soup & Bread or Biscuits
My lovely MIL gave us some more of the leftover turkey from Thanksgiving at her house. Soup! Mmmmm. One of the best things about the week after Thanksgiving. Plus it can just sit in the crockpot all day-extra bonus. Bread or biscuits depends on my mood and what I feel like making.
Thursday: Spaghetti Supper at Church.
Well, that makes it easy. Especially since I'm taking notes for the theatre board meeting at 4 and won't have a lot of time to make dinner anyway.
Friday: Homemade Pizza
Believe it or not, even though it's been on the menu plan each week, we've managed to wind up with alternate plans every Friday for about 3 weeks now. Buddy has been complaining that we keep missing pizza day. . . so I will make sure we do it this week.
Saturday: Crockpot Cabbage Roll Casserole
I've got a few cabbages left over from the garden down in the basement that need to be used up, ditto on some packages of ground beef. Add in the fact that I'm running front of house at the community theatre matinee for a friend, well, a crock pot meal is just what the Dr. Ordered.
Sunday: Venison Tenderloin & Sauteed Onions on Buttered English Muffins w/Mixed Veggies.
Yankee Bill will have picked up the new venison meat (shot on Sunday!) from the guy who does the processing. This meal is sort of a tradition-his dad always made it at deer camp.
For more great menu plans stop by The Organizing Junkie!