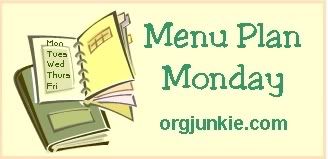 Here we go with this weeks menu plan. I'm entering it in Organizing Junkie's "Menu Plan Monday" since I actually got it done on Monday this week. She gets hundreds of links each week from people publishing their menu plans-so if I don't inspire you enough, head on over and check some out.
Monday-Roast Chicken with Roasted Carrots/Potatoes and Coleslaw. Pudding for dessert.
I never did get around to roasting the chicken this weekend so I'll do that today-I really don't want it hanging around in the fridge longer than that. Carrots, potatoes and cabbage are veggies that stay consistently pretty cheap through the winter around here, so I have them all on hand. The carrots and potatoes will just get chunked up and tossed with some veggie oil spray and roasted next to the chicken. The coleslaw will just be a simple one with cabbage I shred up and some quick homemade dressing. The pudding is because I've got to use up some milk.
Tuesday-Judy's Egg Foo Yong, Rice, Frozen Veggies
I grew sprouts and need to use them. I frequently toss them into a stirfry or curry, but we've had both of those recently. I haven't made this recipe for a while, so it will be a nice change of pace. I'll use some of the leftover chicken from the roast chicken in the recipe, and we've always got the rice and mixed frozen veggies on hand. Oh, and unless I have a poor widowed can of water chestnuts in the cupboard, I'll just throw in some cabbage for the crunch.
Wednesday-Venison with mushroom gravy, rice/noodles, Sauteed Cabbage
This is one of our busy days with dance and all. I'll do the meat in the crockpot-it's just one of those cheater things where you throw it in with a can of mushrooms and a can of "cream of" soup and let it go all day-it will be hot and ready whenever we are. If there is enough rice leftover from Tues I'll use that, if not I'll quickly boil some noodles up. Although it isn't the best flavor-wise, I can even sautee up the cabbage ahead of time, stick it in the fridge and then just warm it up in the microwave for dinner.
Thursday-Fish Chowder and Biscuits
I've been trying to add fish into our diet at least once a week. Once that gets to be habit it's on to beans! I've got some frozen Whiting filets that I can toss in the chowder. I use the basic recipe from my Betty Crocker Cookbook and then add in whatever veggies I have on hand along with the fish. Mostly likely the family will see carrots, onion, potato (possibly leftovers from Monday) and some canned corn in there with the fish. This should use up a few cups of the milk I need to use. Biscuits are just yummy and I've been baking so much bread that I haven't gotten around to making them in a while.
Friday-Leftovers
If you call this "Buffet Night" or "Smorgasbord" it somehow seems more appetizing.
Saturday-Chicken Tikka Masala, Saag, Rice

I've been wanting to try making this since Yankee Bill and I ate out at the Indian restaurant before Valentines day. The weekend seems like a nice time to do it. I have most of the ingredients on hand, but will sub lemon zest for the lime, and might commit the blaspheme of using vanilla yogurt or sour cream for the plain yogurt. . . we'll see. For the Saag I'll skip the "paneer" part (an indian soft cheese). I'll have to check and see if I actually have any garam masala spice-if not I'll have to try to make a quick approximation with a recipe like this one (minus the cardamon pods-not exactly a staple in my kitchen)
Sunday-Pizza
Homemade. A week just isn't right without some pizza in there somewhere!
Other dishes I need to get around to making sometime soon:
Jambalya-haven't had this in a while.
Corn beef and Cabbage-St. Patty's day is coming up! Bought the corned beef last week.
Meatloaf-a classic, but I keep forgetting about it.
Ham-I'm having the extended family for Easter, so that's the menu.
Split Pea Soup-just cause I love it. And I'll have leftover ham.
More bean dishes-once I've got fish once a week firmly stuck in my brain, we'll start making a more concerted effort to get a legume once a week. Healthy and inexpensive.
As a side note-Just in case anyone is interested-here is how I figure my plan out.
First I look at the calendar to see what we are doing for the week. Are there days where we won't be home for supper-no point in planning a meal if we've already agreed to go to Nana's that night for supper. Also I check and see if there are evening meetings-that could mean that Yankee Bill or I might not be there for supper, or that it HAS to be on the table by 5:00 so that we can all eat together. That effects the complexity of the recipe. I frequently try to make something that can either be cooked way ahead (ie crockpot) or can be done very quickly at the last minute on Wednesdays-because that's the afternoon Princess has dance and we get home right at dinner time.
Then I look at what I've got in the fridge or freezer that really needs to be used up and make sure I work that in so it doesn't get wasted. For example I didn't realize I had a gallon of milk in the fridge last week and bought another – so this week I need to make something that uses up a bunch of milk-so I'm planning chowder for dinner one night this week (and making pudding to stick in Princess's lunchbox).