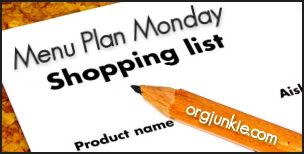 Monday: Venison Steak, Fresh Bread, Zucchini Saute
Steak from the freezer, Bread from Monday baking, and using up the 3 big yummy Zucchini I bought last week & forgot about.
Tuesday: Enchilada Bake & Salad
I've been meaning forever to use up that pack of corn tortillas I bought (why do I buy those things???). I came across the Weight Watchers Beef Enchilada bake recipe in my file, so I thought I'd make it again.
Wednesday: Corn Dogs & Tater Tots w/veggies
I am out of town for one night so I wanted to leave something easy to feed the kiddos! They love corndogs and I rarely get them, so they will be thrilled.
Thursday: Spaghetti & Meatballs, Salad
I'll have driven home from my trip-probably will be a bit tired. Spaghetti is a quick and easy meal-I always have noodles and sauce, and there are homemade frozen meatballs in the freezer. Presto!
Friday: Pizza
This should be even easier than usual-I made an extra crust last week, parbaked it and froze it. Practically instant homemade pizza.
Saturday: Going Out
A good friend is graduating from Nursing school and his wife is throwing a big party. Trust me, we will get plenty of food-no need to eat dinner before we all go.
Sunday: Roast chicken, Potatoes & carrots
I never did roast the chicken last week. It is still frozen as a matter of fact. We wound up eating leftovers last week instead. Anyway, it will make a nice Sunday dinner and fantastic leftovers for the coming week.
For more great menu plans head on over to Menu Plan Monday at Organizing Junkie.