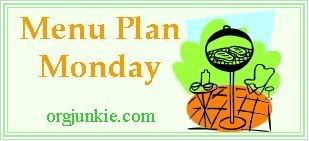 It's Spring Break! Now if it were just above 25 degrees here. . .
Monday: Easter Leftovers
That would be ham slices, cabbage casserole & rolls from Easter Dinner at my Mother in Law's house. I'll be freezing some ham as well!
Tuesday: Homemade Pizza
We'll be out of town on Friday, and never had pizza last week-so I thought we'd get it in there early this week 🙂 Since it is Spring Break I might do something wild and crazy-like letting the kids do personal sized pizzas and decorate them with their choice of toppings.
Wednesday: Pea Soup, Ham or Egg Salad Sandwiches & Homemade Biscuits
My dad & his wife are coming to visit and arriving on Wed evening-I can start the pea soup (with the Easter Ham bone of course) in the crockpot mid morning. The Ham/Egg salad can be made in the morning as well. . . so the only thing I need to do right before supper is whip up the biscuits. This may not be the most fancy meal out there, but since I don't know exactly what time they are getting here (they are driving) it IS a meal that will "wait" until I want to serve it.
Thursday: Schnitzle w/Mushroom Gravy, Buttered Noodles, Cucumber Salad & Ham Wrapped White Asparagus.
I like making Schnitzle as a special occasion dish. Since this is the first time my Dad will be visiting since we moved into this house a year ago-it's a special occasion! Also my Dad grew up in a predominantly German neighborhood, so I think he'll really enjoy it.
Friday: Travel Day
Friday morning we are all heading out-my Dad on his way to other family, the kids and I on the way to my Mom's house. We'll eat when we get to Moms.
Saturday: American Girl Doll Dinner Extravaganza in the City
Yes, Sat the 18th is the day we are doing the whole American Girl Doll thing in the city. Honestly, if you skip the package deal it costs $26 a person, which isn't too bad for city prices.
Sunday: Unknown.
Still at my Moms-so I'm assuming we will eat at my Grandfather's place. No idea really though-we'll be the visitors so I'll let someone else worry about the food.
For more great menu plans, head on over to Menu Plan Monday at The Organizing Junkie.