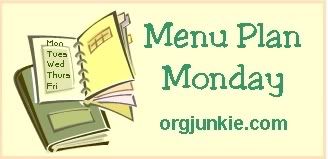 Monday-Leftovers
I have leftover Shepard's pie (which I made on Sunday rather than the planned meal) and Lentil Loaf (from my wonderful MIL). Either of those with a side of veggies will feed the crew.
Tuesday-Homemade Chicken Soup and Biscuits.
I'm so happy that soup season is back. I just love soup! On Saturday I supported our local Lions Club and purchased 3 BBQ chicken halves at the Fall Festival. Even after all 4 of us eating, I had enough left over to boil for soup.
Wednesday-Vension/Broccoli Stirfry
Still trying to clear some of the Venison out of the freezer before Northern Zone Deer Season starts on November 15 🙂
Thursday-Broccoli & Ham Quiche
I've got a few broccoli sideshoots left out in the garden, and ham in the freezer. Since the kiddos have choir, I'll make it in the morning and reheat in the evening.
Friday-Homemade Pizza
Last week I forgot and used my old crust recipe instead of the excellent "Pizza Hut Clone" that I got from Amy over at MomAdvice. We ate it, but we were all dissapointed. I'll do it right this week.
Saturday-Pigs (sausages) in a Blanket & Green Beans.
I have a pkg of Polish Sausages in the freezer left over from BBQ'ing this summer. I'll cut them in 3rds,
wrap in homemade dough
and bake. The kiddos are going to LOVE this.
Sunday-Chicken Divan
I never did make this last Sunday, and I still need to use up that chicken, so we'll give it a go.