New Years usually brings vows of organization-so I thought that this would be a perfect time to re-post this two part series (originally posted in January of 2008) on the why and how of staying organized with a planner and calendar!
*************************
It's a New Year, and its time to talk about keeping a calendar! I know, you may be thinking "What does keeping a calendar have to do with being organized. And just how is Jenn going to tie that into frugality?"
Well, knowing what you have to do and when you have to do it is the very essence of organizing your time-and time, although free, is a non renewable resource. Once it's gone, it's gone!
When we fail to keep our time and appointments organized we wind up being surprised at the last minute. These last minute and forgotten events can cost you money. Here are some examples
You forgot that you signed up to bring food for an event (be it children's birthday party, church coffee hour or workplace potluck) so you have to run out and purchasing premade at a premium-rather than cooking using sale purchased items.

You forgot a birthday and have to purchase an emergency gift (which isn't even all that great) at a local store (again at a premium), make a trip into town specifically for the item (costing time and gas money) and possibly incur priority mailing costs just to get it there on time.

You forgot that you have a meeting on a weeknight until the day of-there is no time to cook dinner before you have to leave so you buy takeout.

You forgot that your credit card was due and mail the payment in a week late, incurring late charges.
I think we can all agree that keeping track of the dates and deadlines in your life is a beneficial organizational goal-and that it can save you money.
There are so many different styles and types of calendars in all sorts of price ranges, from the $170 Franklin Covey Executive Planner, to the wall calendars your local bank gives away for free, and then the whole gamut of things in between.
At different points in my life I've used different styles of calendars.
Photo by imeleven via flickr.com
Through my school career (probably from about 5th grade through college) I used small "student" style planners. Big enough to keep track of assignments, work schedule, and club meetings.

Photo by arellis49 via flickr.com

note: we are not cowboy's fans.

It was hard to find a picture of a plain wall calendar.

Once Yankee Bill and I were married, it became quickly apparent that although we both kept our own planners, we needed some method to keep track of events that effected us both. We started keeping a wall calendar where we each would mark down anything that both of us would need to know. Social events, weekend trips, business trips etc.

Photo by Cat Sidh via Flickr.com

For most of my working career I used a 3 ring binder style (5X8″ pages) with both month and daily pages. The binder style allowed me to include lots of additional information that I need to carry around-every thing from phone lists to my spreadsheet full of parts serial numbers. It was packed with stuff.

My pda was not this cool 🙂

Near the end of my time in the Army I was at a desk job and used Microsoft Outlook at work-rather than having to both type in my appointments/events and then also write them in a planner I started using a palm pilot that could be synched with my computer.

When I started as a Stay at Home Mom I found that I didn't have as much to keep track of. I was home with two preschool age children who participated in no clubs or classes (other than preschool). I was not yet volunteering for more than the very occasional event at church. There wasn't a lot to keep track of. A small, inexpensive "checkbook" style planner that showed a month at a time was plenty to keep my schedule in line. Plus it conveniently fit in my purse.
Now I've gotten busier. I tried going back to a three ring style, but it was too big. Too big to carry around, and way more room than I needed to keep track of my life. So I've gone to a student style planner for my personal planner. It is a bit bigger than the checkbook style, but has both a monthly and weekly calendar. Then I use a large desk calendar too keep track of the family.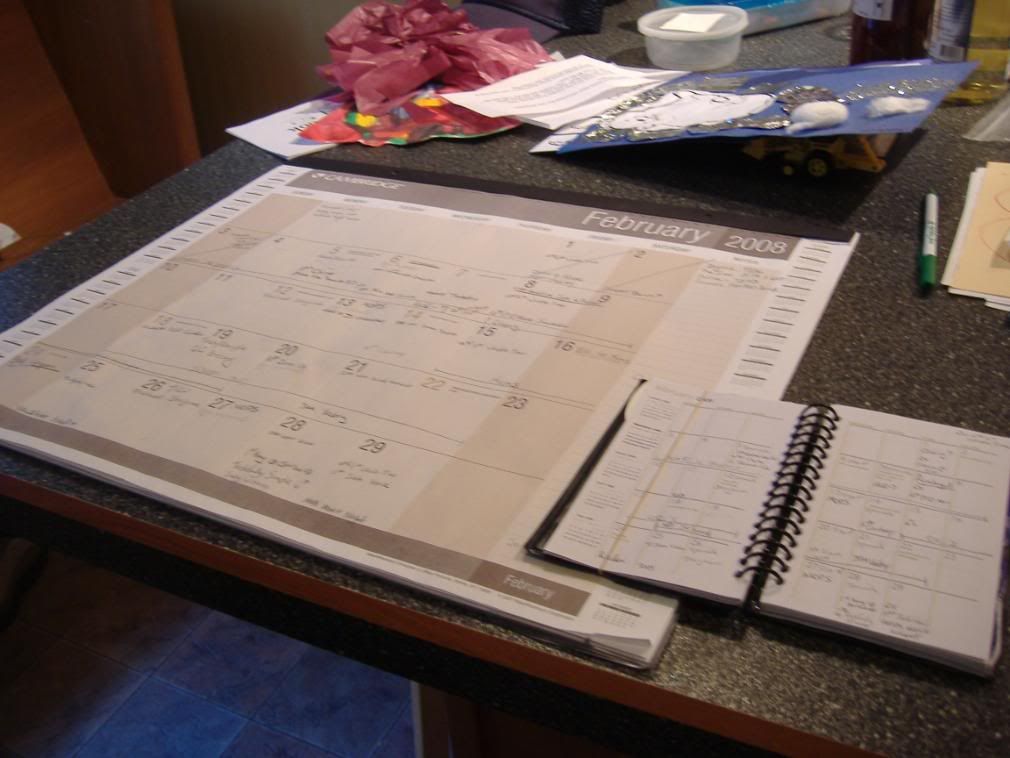 Tomorrow I'll show you exactly how we work our calendar, and give you some other hacks and ideas for calendar management with a busy family.
Want more great organization ideas? Check out Organizing your Computer Files, Divide and Conquer 1 & Divide and Conquer 2.