Yesterday I laid out the reasons keeping a calendar is important to both organization and frugality. I also gave some examples of the different systems that I have used over the years.
Today I am going to show the specifics of how I organize my calendar, and then cover some other calendar tips and some free downloads that I've found out there on the web.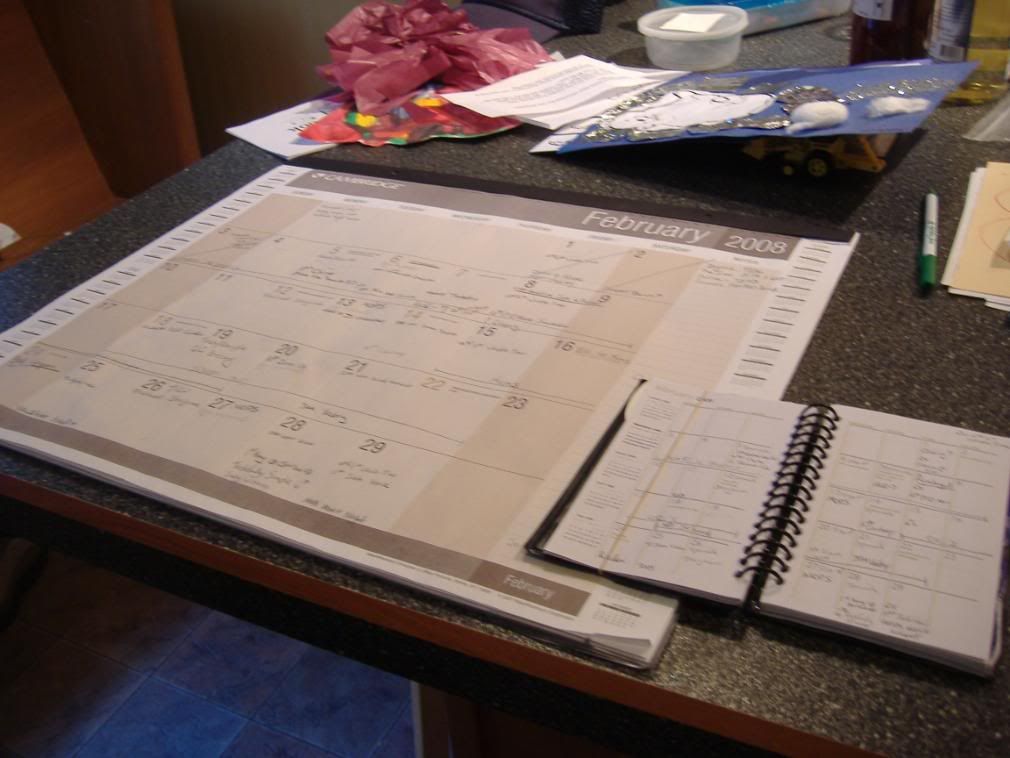 As I said yesterday, Yankee Bill and I keep a joint calendar at the house, and then each of us keeps our own individual planner.
Originally our joint calendar was a standard wall calendar. That worked well when we were both working and didn't have many voluntary activities-we were basically just keeping track of out of town trips and appointments/social engagements that occurred after work hours. As our lives got busier we started running out of room, so we changed to a standard wall calendar with the largest squares we could find. Now with 4 schedules to track (both kiddos you know) we have moved to a standard desktop calendar. In the past I've found them at the dollar store, but this year I wasn't on the ball and had to purchase one at Wally World. It was about $5.
The large desk sized calendar works well for us. Here is how we manage it.
Across the top, under the days of the week I list the repetitive weekly events along with the first initial of the person who it pertains to. For example under Tuesday I might list P-Dance 3-4 (Princess, Dance Class, 3-4pm).
For individual days I write the time and the event. Morning events go closer to the top of the square, evening ones near the bottom. If there is an event that spans several days (trips etc) I draw a line horizontally through the days near the bottom of the calendar. In this picture you can see two horizontal lines-one is for my MIL's trip to Phoenix, the other designates a week that Yankee Bill was in a training session rather than at his regular workplace.

A recent addition to my planning is to also include the name and time of any babysitters that are coming. Sometimes we have a couple of different things planned in the month that require a babysitter, and I don't always remember who I've scheduled for which night.
An additional tip/trick: I've read about assigning each family member a color pen. Then you write in that color when you add their events to the calendar. Right now we don't really need that, but when Buddy and Princess are older and we are tracking sporting events, after school activities etc I can see where having the calendar color coded would make it easier to tell at a quick glance what is going on.
For my personal planner I am using a "student" style, non refillable planner. I picked this one up at the dollar store. As you can see in the comparison picture below, it is only slightly bigger than a checkbook, which means it fits easily inside of my purse.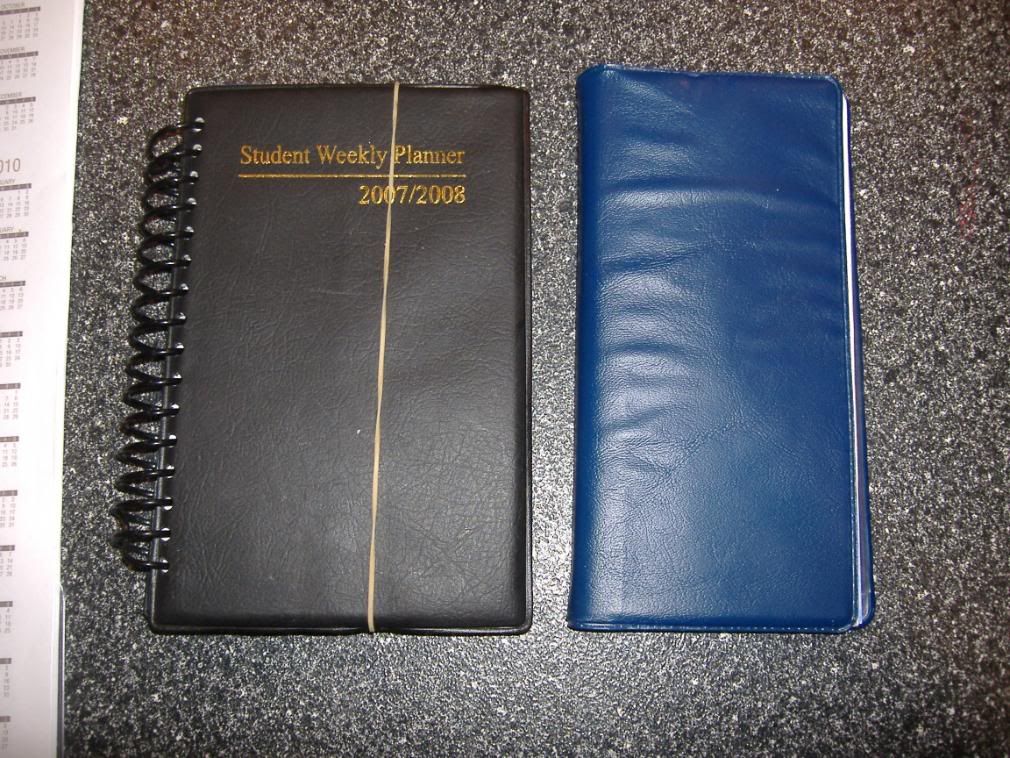 On the interior we have both monthly and weekly views. It was important to me to have a monthly view-I don't always remember to look ahead on the weekly ones! You can see that I have used a rubber band to mark the monthly page. This makes it easy to flip open to the month. Also you can see that I use the same "horizontal line" method for multi day events. I try to use a mechanical pencil to write in this planner, so I can write smaller. I also don't include much detail on the monthly page to save space.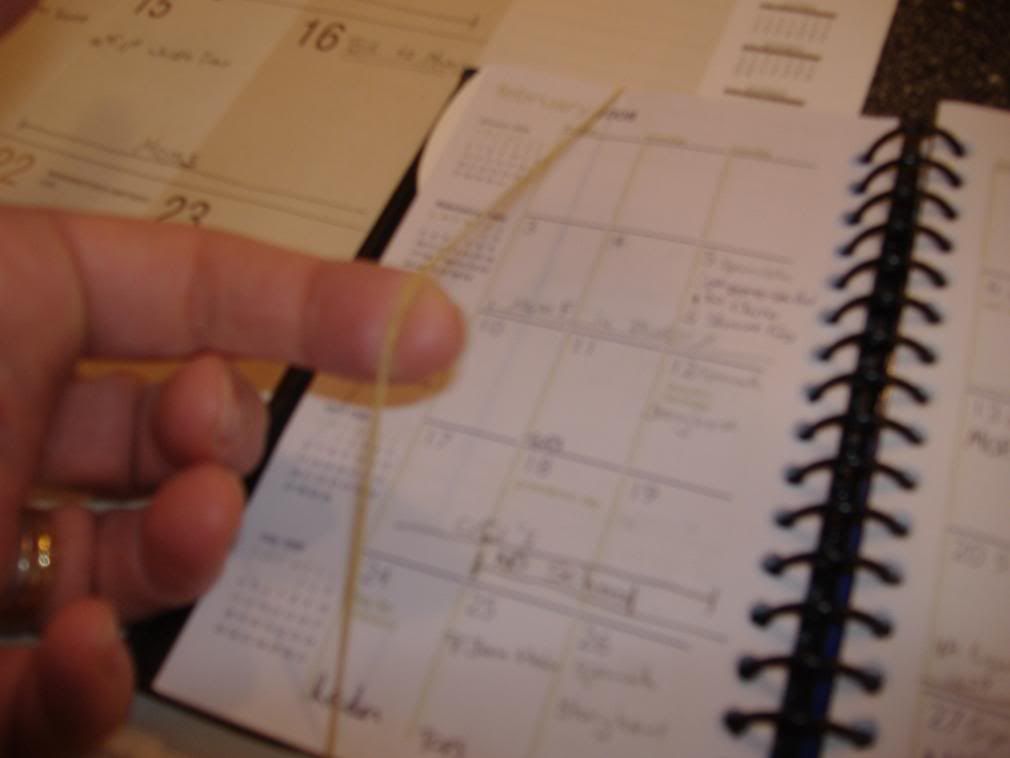 Below you can see the weekly view. I tried for a while using a calendar that had a page a day, but my schedule isn't really full enough to require that. I find for me the week works fine. In the weekly view I write multi-day events using a perpendicular line down the outside edge of the page. Again, I try to roughly arrange the events by date-writing evening ones near the bottom and morning ones more towards the top. On these weekly pages I include much more information on the event to take place. If it is an appointment I write the phone number for the office, if it is a visit to someones house I might list the address etc.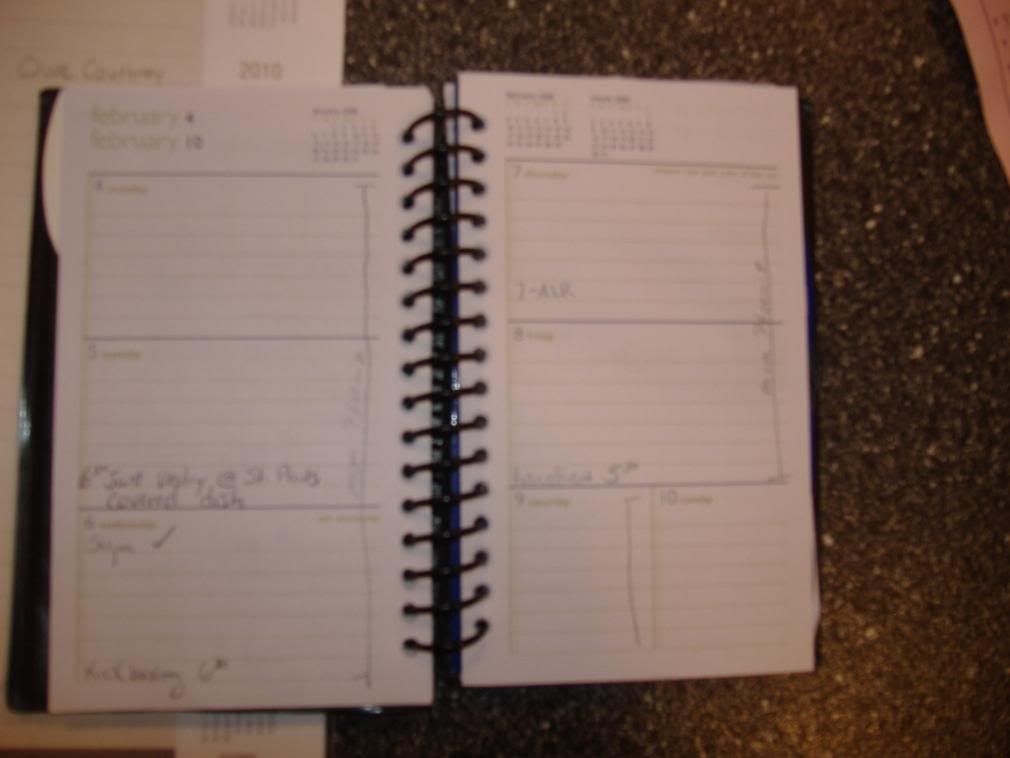 Again, in the future I can see using more of a color coded system to be able to track the various family members.
Another little calendar tip I picked up in the Army-I frequently write a reminder note several days out from an event where I have to DO something. For example, if I have "School Valentines Party-Princess" written on Thursday, then on Tuesday or Wednesday I might write "bake cupcakes for party". This is much better than assuming that I will notice a few days out that there is an event on Thursday that needs preparation done in advance 🙂
This is the system that works for the Frugal Upstate family at this time. Things do change though, and I can foresee a day where we need to change our system. I have considered the fact that an online calendar might be the best thing for our family when the children are older. Resources such as Google and Yahoo offer free online calendars.
Can you just imagine a Frugal Upstate Family Calendar online? Yankee Bill could add events from work, Princess and Buddy could log on from one of the school computers (once they are in middle school) and add in rehearsals, practices, exam dates etc. I could power up the old laptop and add in Dr. appointments, vacation plans, etc. Then no matter where any of us is, we can log on and see the calendar in it's entirety. And these days with smartphones you can even access an online calendar on the go!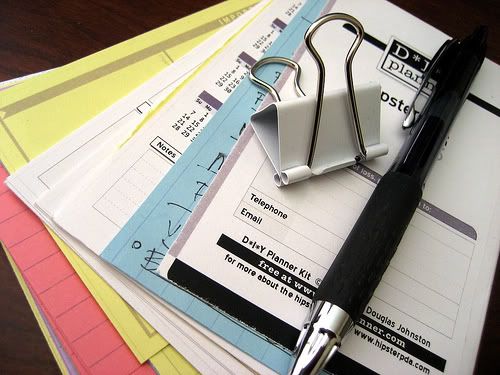 photo by BigBlue via flickr.com
Looking for free printable calendars? DIY Planners has some great stuff. Also check out their Hipster PDA. Simply put, this is a "low tech" personal data assistant. Namely index card sized printouts held together with an alligator clip! There are tons of different styles and pages that you can print out, and it's free! Have I mentioned that free is my favorite price?
Want more great organization ideas? Check out Organizing your Computer Files, Divide and Conquer 1 & Divide and Conquer 2.