With school right around the corner, or even started for some, lunch seems to be on everyone's mind.  So much so that my cohost Lynnae and I did an entire episode of Frugal Coast2Coast this week on "Packing a Lunch" (available as a podcast now).
So there are two things going on here-a microsite with a lunchbox builder where you can enter the giveaway for the Lunchbox Pack & print coupons, and then the Lunchbox Pack giveaway here on Frugal Upstate.
The Builder
The "Lunchbox Builder" is a nifty little site where you can create your own virtual lunchbox design and then upload it to the lunchbox gallery to be viewed and voted on.  The highest rated lunchboxes will receive a Back to School Lunchbox Pack just like the one I am giving away here. I decided to try the builder out, and Princess came in while I was working on it.  "oooh!" she says, "Can I try that too?"  Kids love making things, even virtually!  Here is the lunchbox I came up with:
Cute eh?
There are also some good coupons to print out on the lunchbox builder site-but those will eventually run out, so the the sooner you print, the better!
The Giveaway
As part of the Motts, Smuckers, and Pepperidge Farms Lunchbox campaign, they sent me a lunchbox care package to try, and then I get to give one away to a reader. Woohoo!
This lunchbox pack can help you prepare for more than just lunch-it's more of a "school" prep pack.  At a value of approximately $150 it's worth an entry!  The prize pack includes: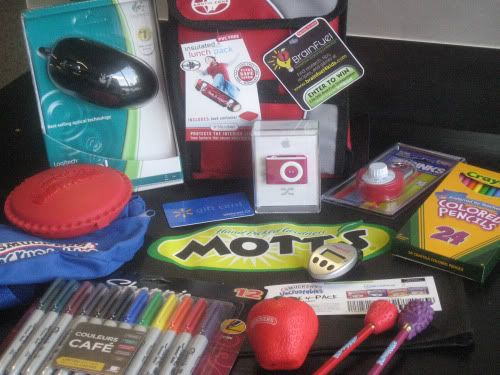 An iPod Shuffle (2nd Generation)
An insulated lunchbox
Sharpie pens in multiple colors
Colored Pencils
A Smuckers Uncrustables Container
A Smuckers Belt Pack
A Motts Reusable Shopping Bag
A Smuckers Strawberry
Pencils
Coupons
A Walmart Gift Card
A Combination Lock
A Pedometer
In addition, the winner will be receiving 5 Labels for Education, worth 10,000 points each, which can be used by your child's school!
How to Enter
This giveaway runs from today, 8/19 to Monday 8/24 at midnight EST and is only open to US residents.

Leave a comment below telling me your favorite things to pack in your kids (or own!) lunchbox.
Want some additional entries? Here you go! Just make a separate entry for each.
1. Subscribe to Frugal Upstate (that's in the upper right hand corner) then comment.
2.  Subscribe to the Frugal Coast2Coast feed & newsletter, then comment.
3.  Tweet about the contest directing followers to this post, then comment.
4.  Write a blog post about the contest directing readers to this post, then comment.
Good Luck!  I can't wait to see (and borrow) all your fantastic lunch box ideas.
If you enjoyed this post, make sure you subscribe to my RSS feed!