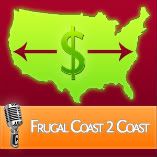 Tonight on Frugal Coast2Coast Lynnae and I are tackling how to homeschool on a budget.
Now I am not a homeschooler-but I have oodles of respect for those of you out there who do.  What an undertaking!  Lynnae on the other hand made the difficult decision to start homeschooling her children this year. As a matter of fact, last Monday was their first day of school.
So join us tonight at 8:30 pm EST as we talk with veteran homeschooler Toni of  The Happy Housewife about homeschooling on the cheap!
I got the chance to meet and hang out with Toni at BlogHer last month-what a fun and fantastic lady!  It is going to be a great show tonight, so tune in and listen live at 8:30pm EST and stop by to hang out in the chat room.
So, do you homeschool? What is your best tip for saving money while homeschooling? What area do you find it the hardest to save money on?