Buddy's birthday was upon us (the big SIX) and life was busy. When is it not? We needed a cake for a small family only celebration on the big day-a large friend party would follow later in the month.
What to do?
Those of you who are long time readers know that I enjoy making cakes for the kids birthdays. I've made and blogged about my Princess Cakes (One & Two), Hannah Montana Cake*, A "Quilt" cake* and Lego Cake.

I've also made, but never blogged about:
A Construction cake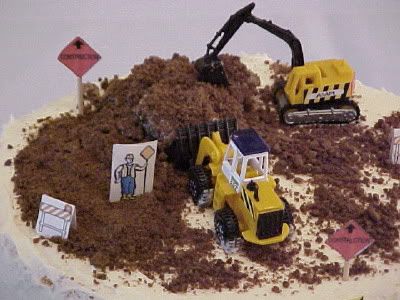 A "Blue's Clues" Pawprint cake
A Swimming Pool Cake
So obviously I had set the bar pretty high. I couldn't just go with a basic round cake and "Happy Birthday". It had to BE something.
Lately Buddy has been interested in dominos. Yankee Bill likes to play dominos on the computer (pogo.com) and also when we go camping. Buddy doesn't play yet (although he could-actually we need to do a family game night soon & teach the kids) but he has discovered the joy of making a track of dominos and then knocking over the first and watching them all go down. So I decided to make a domino cake.
I baked 1 box of cake mix in a rectangular casserole pan, cooled it and cut into two rectangles (there was a bit left over for snacking). I SHOULD have frozen them for several hours at this point to make frosting easier, but I had left it to the last minute. I stacked & frosted them (it was ugly-the side facing away from you is all torn up and awful looking) then used those round white mints to make the dots. Yes-that is store bought frosting and not my frosting recipe. I told you I left it till the last minute.
End result? I did not think it was my best work, but it was cute and he was pleased! And isn't that what it's all about? The birthday boy being pleased? A similar cake would be fun for a game night either with family or friends. After all, there is just something old fashioned and fun about playing dominos and talking smack 🙂 Then again, maybe that's just my old Army training deployment memories catching up with me (Spades & Dominos are what soldiers play!).
*Scroll through the post to see the cake pictures & descriptions